Villa Week 20

Beez Neez now Chy Whella
Big Bear and Pepe Millard
Sat 8 Aug 2020 23:57
Week Twenty at Sleeping Indian
Sunday the 2nd of August. The new week has to begin with boiled eggs, Bear really has got the hang of perfection. At around midday we had a video call from Chris and Steve. A wonderful catch-up with us giving a tour of here and them a tour around our place in Plymouth. We said our 'farewells' when the IPad battery had gone from a hundred per cent to five – absolutely shell-shocked when Chris sent a message saying our call had been six minutes shy of four hours. No, never, seemed like half an hour tops. Just goes to show how time flies when you are having fun. Late snack lunch and the rest of the day seemed to whizz by with all sorts of silly little jobs before we take on the upstairs painting. Managed to get to the beach at nearly six for an hour. Back for showers and ready for Andrea at seven. No nonsense (snacks or starters), straight to the mains that we didn't manage last night – beef in black beam, tiny bit of chicken masala and fish fillet with goan curry sauce with rice for the two spicy eaters and sweet and sour chicken for me. After a break in the easy chairs we stayed put for cake and ice cream. Minutes seem to pass and there Bear was walking Andrea home just before the eleven o'clock curfew. Time really did fly today.
Monday the 3rd. We did a load of planning and watched a film while I got around to do last weeks blog. After lunch we had a huge sort out. Bear went up into the loft and down stuff came. Cases sorted for first journey back to UK, second wave put in boxes, all Beez 'stuff' in an orderly line, by half six we came to a grinding halt. Bank Holiday today and tomorrow so no beach or swim for anyone, such a shame. No matter how late we finish for the day it is so nice to have a quick dip. Checking the front garden we noticed the little pencil cactus that Laura gave us in a mug, has not only established himself in the sink garden but has produced two set of leaves, one at his base and one near his right tip.
Tuesday the 4th. I painted inside of main wardrobe. Bear made a concrete plinth for the trellis support. Bank Holiday so we played backgammon and Mex Train. Finally, got around to putting the new solar lamps in the deck plants.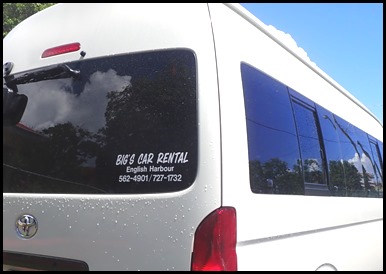 Wednesday the 5th. Got up early to do gloss in main part of bedroom wardrobe before going shopping. Usual round of shops on the list but we started with a trip to a shipping office to get a quote for Beez 'stuff' (accumulated treasures, bits and bobs). The wicked witch fought us to get through road closures and on one particular u-turn we saw a rental van from Big's. Made Big Bear smile. We saw a lovely example of a Berger House (bright colours no one anywhere else would put together).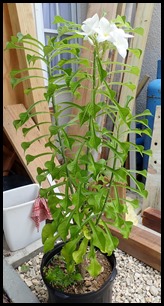 In the big hardware shop Bear bought me a serious mosquito machine (fogger unreliable just now due to technical problems, meantime the population of Pepe-eaters are getting the better of me). We stopped at the ABHC (Antigua and Barbuda Horticultural Society garden to find Barbara and Agnes full of information and so passionate about the garden and plants. I immediately saw a white frangipani (never thought I would fancy one) that simply had to come back with us.
I asked the ladies if they had any little succulents to replace the leggy, ugly bulbs and was shown to the greenhouse. A couple of aloes plucked as we went. Sorted, but as always we were in a rush but will return to ABHC Garden for a proper explore and hopefully Barbara will have located a hoya bella for me. Oh, and Bear fancies a desert rose because they have lumpy bottoms. Mmmm hope he is not modeling his request on mine...... .
Arrived back from shopping to find three of our four cupboard doors had been left outside, one – acceptable, two – OK if ninks polished out and three – utterly terrible, two side very little paint, one inner slope covered in tears and uneven......so nearly four months into the project. Hand me a stiff drink and hope Mr. Painter doesn't drop by just now.
We bought two lanterns for the deck side tables today as the gopping ones I chose get too hot in the sun and candles will just get messy in them. Feeling the need to do something creative Bear found me six AAA batteries and soon they were set up. Pretend candles with remote controls.
Thursday the 6th. Mr. Painter came early carrying missing cupboard door, handed it to Bear saying he was no sprayer and left.........Never been sacked by a workman before, such a shame to get over three quarters of a job finished. Too baffled to be angry. So sad as we had hoped to do the kitchen Before and After pictures. Lord Ron came to assess the doors and will get on the case for us. Late morning Andrea popped in to say 'farewell', she flies this evening to Gatwick, taxi to Heathrow and then on to Munich before getting home Switzerland. We wished her a safe journey after hugs, it won't be the same not to find her reading on the beach. I shut myself in the linen cupboard to gloss and emulsion, Bear wired lower staircase. Neither of us in great spirits. The front hibiscus must have known and showed three blooms.
Friday the 7th. Bear began trellis support cutting, sanding and trial positioning. He made a lovely job of the concrete bed on Tuesday and today he drilled and settled the main support stand. Good to see a smile on his face and happily busy.
I didn't feel like starting a new job so I set about removing the bulbs, cute when they first show what looks like a baby hyacinth but goes leggy and not really any blooms. I made macaroni cheese. Late morning the foreman arrived, apologised and took the remaining three cupboard doors needing attention. I got to planting.
Balcony planters new look – aloes. The naughty Mickey Ears in the right hand planter decided to sag over in the recent storm so for now, supported. Have to review them if they don't buck up literally. Then to the front garden. I removed a late developing bulb, added a baby aloe to middle of the end troughs and the only pansy to appear from the sown seeds to the middle one, then cleared the leaves, so many, really looking forward to my small trellis fence to hopefully reduce the numbers. Late swim.
Saturday the 8th. Bear put primer on the trellis frame. I sorted work boxes, decorating 'stuff' and tidied ready for the new work week ahead. We had some games and pottered through the afternoon. Went for a swim and looked forward to a real treat – our first takeaway Indian from the newly opened curry house. Bear went to collect, I mixed yoghurt and cucumber, poured drinks and we settled to chicken curry for Bear and Tandoori chicken with potato bhaji for me. Settled to an episode or two of Gotham. Our meal was delicious.
ALL IN ALL A BIT OF A STRANGE WEEK
GETTING MORE HOMELY
---