Zhenjiang & Chaoyin

Beez Neez
Skipper and First Mate Millard (Big Bear and Pepe)
Fri 18 May 2018 22:17
Zhenjiang and Chaoyin Temples in the Ancient City of Huanglongxi
Just up from the Imperial Kinsmen Ridge in the Jin Jiang River, not absolutely sure we saw it but read the information board anyhoo and then assumed it was the slope up to the temple. We bimbled up said slope beside an ancient banyan tree to find the Zhenjiang Temple.
A shabby board says: Zhenjiang Temple. Located in the north of the main street, Zhenjiang Temple is facing Gulong Temple. Being an ancient temple on Imperial Kinsmen Ridge on the ancient wharf, it is originally the "Imperial Kinsmen Temple" in Zhenjiang. Built for the immigrants, and treated as the site of sacrifice by the masses. Every Jun.6 in Chinese calendar is the birthday of the dragon king, so this day is considered as meeting. Love it.
On the far side of the entrance was a plaque that reads: River – pacifying Temple. Located on the north end of the main street this former River-pacifying Lord Temple was built by immigrants to Sichuan in early Qing Dynasty and used to serve as a venue for sacrifice – offering gatherings of the merchant fleet. Before, its main hall housed the statue of the "River-pacifying General Yang Si" (River-pacifying Lord), who was revered by people from far and near because of his capability of killing the rampant dragon and eliminating flood. Each year, on sixth day in the sixth month on lunar calendar, the birthday of General Yang Si, believers from neighbouring area will get together in the temple to mark the occasion. Love it more.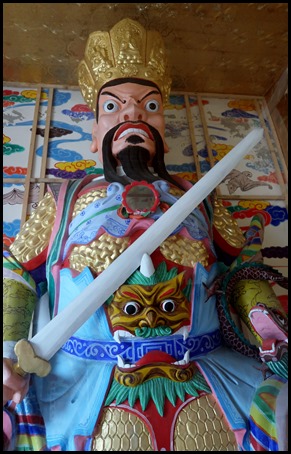 Each side of the Happy Buddha were his trusty Guardians.................
..........one of them looked shocked about his nether cover, a lady a first and one was black, yet another first for us but looking somewhat fierce.
The little courtyard.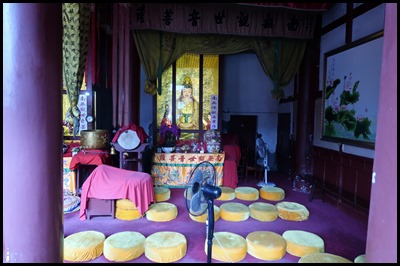 Left, right and centre shrines.
The turtle and of course he did.
A photograph from yesteryear.
The bell and the one of the elderly doors.
We left this temple with its P'i & Xiu guardians at the entrance.
Just along the road a little way was Chaoyin Temple, called Leshan Temple in the ancient time, it is a nunnery, which has five rooms along the street, and offers sacrifice to Kwan-yin and Mal treya. In the ancient time, as Buddhist rite, it hosted various important conferences, in order to pray for good weather for the crops.
Happy and serious Buddha at the entrance.
The courtyard with a nun lighting candles.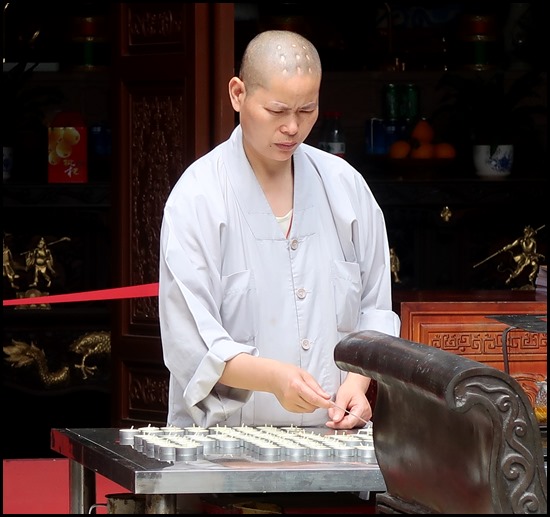 Would love to have asked this lady about her head markings but.............
Left, right and centre shrines. A lovely, quiet, restful and holy feel in this nunnery.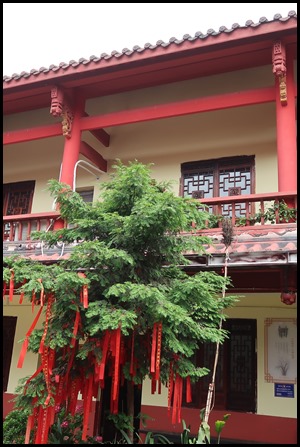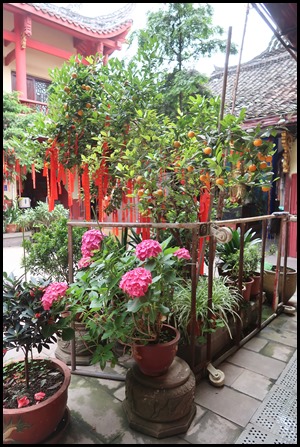 Simply lovely.
ALL IN ALL JOYFUL LITTLE TEMPLES
QUAINT LITTLE TEMPLES
---