Laser Show

Beez Neez
Skipper and First Mate Millard (Big Bear and Pepe)
Thu 24 Dec 2015 23:57
St. Mary's Roman Catholic Cathedral Laser Light Show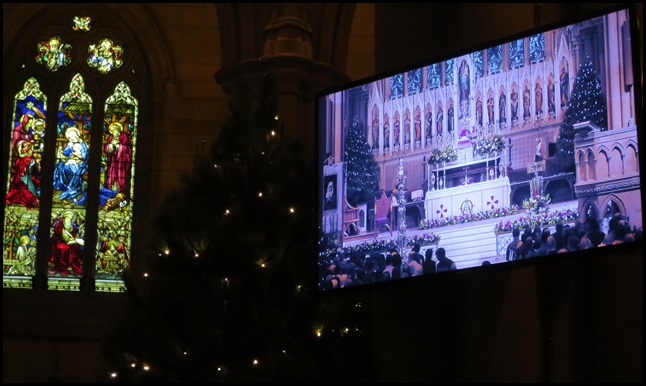 Bear insisted we get a taxi from the Rocks, and to be honest, it was further than I thought and all in an upward slope. We found a side seat in the Cathedral and found ourselves next to a monitor, by a tree with a view of a stained glass window. Perfect. Today, pretty much a mass follows another with half an hour between. People milled in and out with a settled bit in the middle. We were at the Vigil Mass and sang the carols at the top of our voices.
Mass over, we went outside, an hour to spare before the laser light show.
The life size crib.
We settled with a perfect vantage spot, posed in front of the Cathedral and Bear stood beside the Christmas tree. A very talented duo, a man and lady entertained us for the hour taking on some big numbers – the Prayer, Time to Say Goodbye as well as some popular carols and they were excellent, time flew.
The first time there has been a full moon at Christmas since 1977 [the next in 2034].
The show began to music. We stayed until we had seen a full loop. The longest and most complex part was to the Holly and the Ivy, wonderful. We got home for a quarter to ten and in went the hind turkey quarter. We wouldn't want to have met the creature strutting – it must have reached hip height. We set the alarm and went soundo, alarm off, oven off and more sleep, bliss.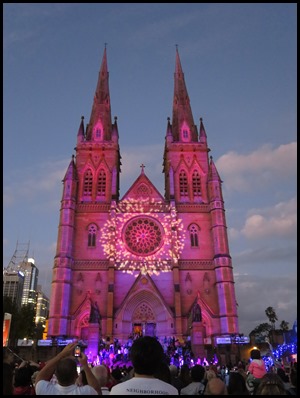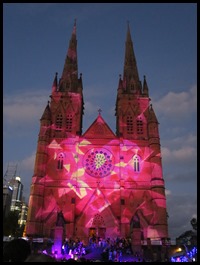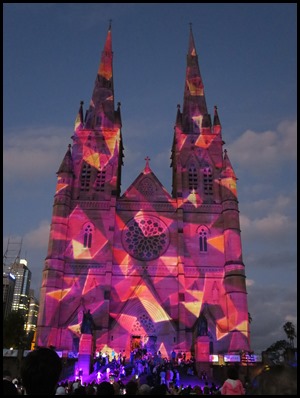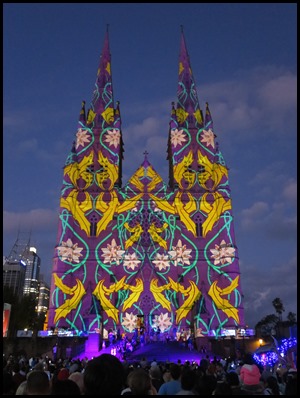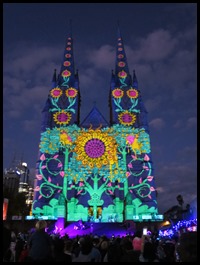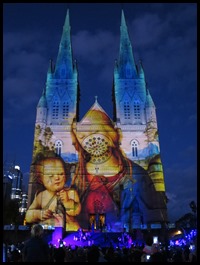 .
ALL IN ALL A FIRST FOR ME TO SEE SUCH A THING ON A CATHEDRAL – INCREDIBLE
MOST UNUSUAL AND VERY BEAUTIFUL
---