Messy Beez

Beez Neez now Chy Whella
Big Bear and Pepe Millard
Sun 28 Jan 2018 23:57
Messy Beez
Bear went to work each morning and it was fun to have him back to 404 each lunchtime and evening. He took these pictures to show me his 'progress' during the week. The pedestal was the systematically taken to pieces.
The lounge, at first sight, didn't look too bad to my eyes.
The sea berth mmm, cluttered shelf but OK. Office, work in progress and the desk area ready to be stripped.
Grey tank and bedroom floor, en suite and potting shed.
Our bed does look a bit too busy to be used and backs up why we had to move out.
Meanwhile, outside, the girl has been sanded and readied for her undercoat next week.
So what have I been up to this week. After settling our stuff in 404 and moving it around a couple of times until it felt right, I made one of the dining room tables into a desk. Three laptops were set to work all day to back up all our films, music, photographs and documents, satisfying to see the Pelican case begin to fill until all was done. Film, TV and Police series, specials and audiobook lists updated, printed and filed. The new week will have to be all about catching up on blogs and the following week I will begin the ever growing sewing pile.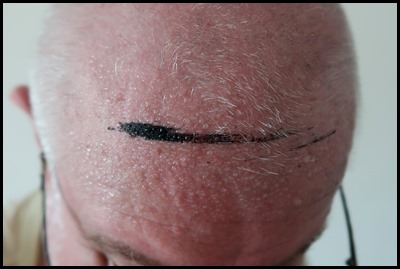 One evening Bear came back with a quite distinct new feature on his forehead......... On the close-up you can all now see why I affectionately call him Sweaty Boy.......

On Saturday there was a wedding reception in the building opposite, for a solid hour and a half there was a symphony of what sounded like Kazoo's or perhaps just comb and paper played at full volume. Thank heavens for my IPod, good audiobooks and great earphones. Thankfully, by nightfall all went quiet.
Bear came back this evening with a triumphant look on his face. Last week he had removed the old limpet mine (forward facing sonar) which had a huge profile and something we always had to remember to tell the strop bearers when Beez was hoisted by crane. The new one went in easily after I had overcome the old one inch, which needed to be plugged before re-drilling the new two inch new hole. Well, the new limpet mine certainly looks lovely and a much neater profile. If all the new equipment looks as good the Beez will be a very happy girl.
ALL IN ALL A STEP IN THE RIGHT DIRECTION..........
A GOOD FIRST WEEK
---