Somosomo Sevusevu

Beez Neez
Skipper and First Mate Millard (Big Bear and Pepe)
Sat 12 Sep 2015 22:37
Somosomo Sevusevu
We jumped up this morning and dressed in our Fijian finest, first job of the day – to go in and present sevusevu to the lady chief of the main village. There are only three ladies who hold the title in the whole of the country, this would be our only opportunity, so one not to be missed. Bear steered Baby Beez around the local reef leaving Beez.
As we rounded the corner hearty waves from a fisherman.
This big bay had a huge reef to the right, we went over to see if there was anything special to snorkel over but it was the now familiar hard corals, blue and green fish – not that we don't feel blessed to see this kind of thing on a daily basis.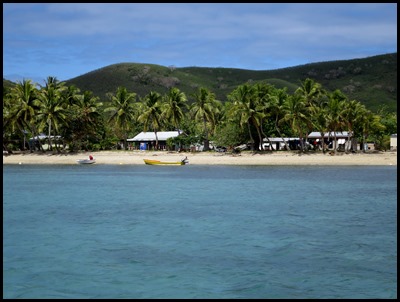 We made our way across to the village. A couple of ladies were chatting on the beach, then got up to wash their cooking pots in the shallows, waving and shouting "Bula Bula". Within minutes the children were gathering and waving too.
The leaders of the 'welcome party'. Bear's new friend let out two enormous sneezes, [I turned quickly, really don't need another lot and have to report in sick so soon after the last lot] then wiped the two huge, green candles dangling from his nose up the back of his arm. So pleased he stuck with Bear.......... A bigger boy became our guide to the chief's house at the far end of the village.
Bear looks so natural at this sort of thing now as we walked past the drum, for calling the faithful to church and the children to school. Fully into the culture now, we will sad to move on in many ways.
We were presented to Chief Adi Dawale, who jumped up to shake our hands and welcome us to her village. She sat and spoke the Fijian words over our kava – at least this time we knew how many times to clap and roughly when. One of her granddaughters translated in perfect English and another went for the Visitors Book. We signed and handed over three pounds thirty each for the upkeep of the village and became part of the family. Chief Adi then posed with a granddaughter and great grandson. Sadly in the first picture she shut her eyes and in the next turned to call her great great granddaughter over. This lady as told by several of her huge family was eighty seven, eighty eight or ninety, whatever her actual age her smile was gorgeous, she was completely upright, reads without the need for spectacles and does all the cooking. Remarkable as after just a few minutes sitting on the floor with her we felt like creaking doors. Chief Adi bade a 'Happy 90th Birthday' to Bear's mum, Dorothy as today is her day and she will be joined by many of her grandchildren and great grandchildren.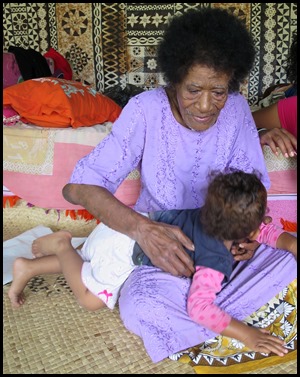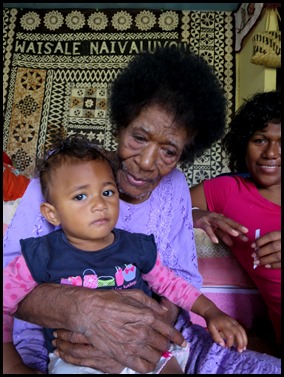 Adi and her namesake Adi. The chief with her great, great, grand daughter.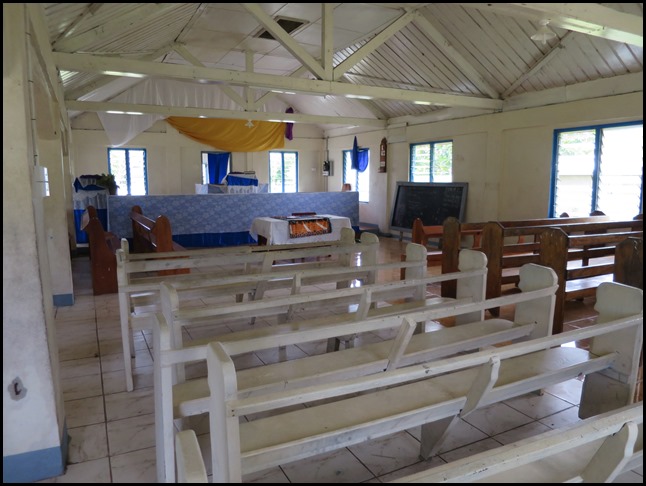 Formalities over, introductions to too many to remember by name, we were invited to church and lunch tomorrow, our fruit and veg order was taken and we were then outside looking at some of the ladies shell and necklace collections. Our cash is dwindling now, so my retail therapy was a small one. Free now to come and go we began with a visit to the church. As we have become accustomed, men and women sit on opposite sides, here on different coloured benches.
The village water tank, a typical house and one with a grave in the front garden.
Most of the ladies were busy with their washing but stopped to say 'hello'.
The space behind the first row of houses back from the beach we were told is where the village rubbish is sorted, for burning, composting or recycling.
We sat and chatted to a couple of men who were keen to know our thoughts on the cricket and the rugby, a giant of a man came over to tell us he was supporting the English side. Back on the beach we bade farewell to the ever growing numbers of small people Bear had gathered like the Pied Piper. I was pleased when a tiny tot thought I should be presented with a sharp knife half as big as the said child...........Oh my word, I gratefully said 'Vinaka' and handed it to one of the bigger boys. That went well, no tears and lots of happy smiles. As we pulled away we saw the school pirogue had been donated to the village by the Prime Minister's Office.
Back to Beez for boiled eggs, it doesn't get much better than this.....
ALL IN ALL SUCH A WARM WELCOME
SO VERY FRIENDLY
---