Sab Sab Hotel, Sal

Beez Neez
Skipper and First Mate Millard (Big Bear and Pepe)
Thu 1 Jan 2009 23:50
Sab Sab Hotel in Santa Maria, Sal
Our first look at the hotel as the taxi pulled in. The rear of the property taken from the beach.
The advert reads
"The island of Sal provides all the delights of a turquoise-blue sea, crystal-clear-water beaches and sunshine year-round. There you'll find SAB SAB Sal Hotel. All the rooms with TV, telephone, mini-bar, air-conditioning, ceiling fan ventilators and a beautiful natural air draft ventilation through the windows installed wire screens. The SAB SAB Sal Hotel also has a restaurant specialising in local and international cuisine along with bars, a nice swimming pool, a tennis court and beach volley. There is a windsurfing centre and a gym completely renovated. So why not take a vacation in complete tranquility and indulge in the Hotel SAB SAB".
What else could we do but book immediately. If for no other reason than the window installed wire screens.
Ibis bird by the pool, our corridor with Bear by our room door, our curtains, worth mentioning these five panels, Bear thought were brown??? He did get me back by laughing until he cried when I was happily fiddling with the "TV Remote" which turned out to be the air-con controller. The TV had no aerial and didn't work anyway, the mini-bar was asmall, empty fridge (we soon filled with loot brought from Boa Vista), there was no ceiling fan (we looked in the toilet too) and we had to ask for pillows. Not a bad start.
Sadly the tennis court was in need of TLC as does much of the island. Had they have used a higher quality raw material to begin with, perhaps, things would last longer. They spend so much time and money replacing the cheaper stuff, surely it would work out economically cheaper in the long run to start with higher grade. The pool paint was all chipped, the tiles surrounding ditto. The advert had said the hotel had recently been re-decorated, what it must have looked like before one can only wonder. We never did find a gym or beach volley.

The staff worked really hard all day on the New Year's Eve Feast. Plates nicely presented, starters and the pudding rack needs special mention. At breakfast it housed cold meat and cheese, at the end of service a button was pressed and the canopy lowered, well I was impressed. The quoted "international cuisine" was a bit loose, the menu said things like "mist salad" and "beef cow village", food was OK generally, buffet breakfast. The evening meals - no matter what - had a rounded pile of rice, chips a piece of cucumber and tomato. Nicely presented though.
Pigs head as decoration on the beef platter, a close up and lobster with prawns.
One of the resident cats, when Bear ignored him, he got a bite with the longest lower incisors we had ever seen. Bears platter and a happy looking skipper.
Happy New Year. Celebrated when the band were encouraged to leave their food at midnight.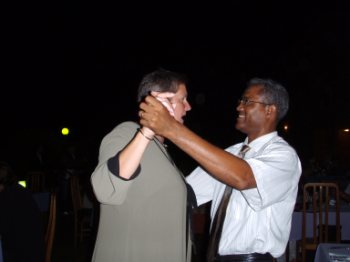 Me dancing with the hotel manager (born in Mindelo - we chatted about their famous musician Luiz Morais, pronounced Loo-ish Mor-rish). He was impressed we had been to a tribute concert with the great mans musicians, new leader and family in attendance. Plenty of German guests greeting the New Year. Our evidence of a good time.
Lots of quiet guests at rest the next day. Me in the pool for the first time, just to prove I had EVER been in a pool on New Year's Day, ditto Bear
All in all a really nice experience. Happy New Year and a prosperous 2009 to all.
---