NEWSFLASH one

Beez Neez
Skipper and First Mate Millard (Big Bear and Pepe)
Sun 21 Sep 2008 23:11
NEWSFLASH one
The Crazy Itinerary
September 10th - Fly to Exeter 16th - Manchester to Bird and Danny. Gemma's Birthday.
11th - Miffy's 21st Birthday, Bear dentist at 2 & Gathering from Chandlers 17th - Burnley to Gemma, pressies and Kaiser.
12th - Gloucester to pick up Bear's Mum " The Birthday Girl " 18th - Darlington to Jump Jet
13th - Martin and Kim's Wedding Day 19th - Swindon for supper with Kate and Mark, on to Peter & Rita
14th - Drop Mum at Simon and Clare, drive to Bridgwater Peter and Rita's 20th - Flight to Faro
15th - Burnham on Sea, My mum out to lunch, Weston-super-Mare
Flew in to Exeter, picked up Peugeot 308 hire car, stopped off in Tesco for supplies, Paul the steel man for bits Bear had orderred, Martin and Kim's for post, Florist to check all well, fell into hotel tired. Next morning Bear went off to do " job's " little did I know how much weight his jobs would entail. He claims I approved his shopping list but I maintain I only saw the limited edition. I met Miffy in town to buy him his FIRST pint??????? as a 21 year old. My rose wine was £3.50 a glass or £4.99 a bottle, well.........
We went back to our hotel for a glass of Champagne, Miffy opened his pressies, beds the bear watching, the lads out in the evening at Cuisine Spontanee.
As I went to take this photo these girls from another group joined in.
Next morning up early, breakfasted, to head for the store in Saltash, Miffy had gear he wanted to collect and had asked to come with us. We rang him at 10 am not really thinking for one nano second he would be in any shape to come with us, being the morning after the night of his 21st. But. We picked him up at 10.30, cannot say he was looking chipper, but he was upright. I said " how impressed I was he had eyes open and standing" His answer "I'm not and I'm Not " After an hour of rummaging in the storage container we dropped Miffy back and went on to Gloucester to collect Bear's mum on her birthday. Very rough journey with loads of accidents on the M5, returned cross country. Mum's Birthday supper at the hotel.
A lovely photo of Bear and his Mum
Not too late a night as the next day was Martin and Kim's Wedding Day at Mount Edgecombe. Afterward at The Plymouth Corinthian Yacht Club.
The Marriage Certificate being handed over to Kim " with no cooling off period " Stepping out as Mr and Mrs Millard. The wedding party.
First kiss as newlyweds.
Next morning I got stuck in to the art of sorting. The metalwork Bear had bought dictated the purchasing of bigger flight bags. After stuffing the boot full we took Mum to Clare and Simon's where Kate and Mark were staying, it was smashing to steal some kisses from the little ones, Charlie and Sam. The Tinson's set off complete with Cooper the dog to take Mum home. We went off to Westonzoyland, Somerset.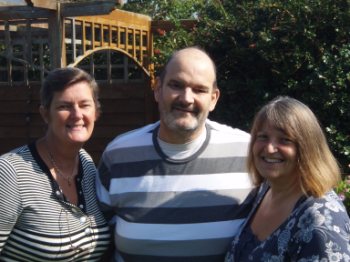 Nick popped in for a visit so a chance to take a photo with his mum. Beds and his cousin Chelsea Bear, complete with bad arm " just like his dad " Me, my big brother Peter and Rita.
Me and my mum, taken last year in Spain. I thought it would be foul weather in the UK as everyone had warned us, but we took the sun back with us. Had a nice day out with mum in Weston-super-Mare, sadly the pier amusement arcade had just burnt down, good news that the superstructure looked OK. The police had to put up crowd fencing into the sea as fortune hunters had stood underneath waiting for the one-arm-bandits to explode and shower their contents onto the beach beneath. Had lunch in Papa's ( probably the best fish and chip shop in the world ). Popped in for a hug with Theresa and Bernard. Back to Peter and Rita to sleep.
Rita should be so proud of her " corner of heaven "
Time to head North and on to NEWSFLASH 2.
---