Kowloon Park

Beez Neez
Skipper and First Mate Millard (Big Bear and Pepe)
Thu 27 Dec 2018 23:57
Kowloon Park, Tsim Sha Tsui, Kowloon
Just steps from one of the biggest high-end fashion malls in Hong Kong is Kowloon Park which covers thirty-three acres. Soon inside we found seating and spread out our booty from the bakery. Bear chose a pork roll, literally three pork fillets in a roll for the princely sum of two pounds. I settled with a fluffy cheese thing and we both followed with an apple bake.
Along the main walkway at the entrance were seasonal additions.
Site map also in Braille. There are seven distinct areas including a public swimming pool, museum (contained in a couple of the original barrack buildings), aviary, water birds, maze, fountains and paths with the city skyscrapers all around the edge.
Much rested and well fed we began to bimble. A formal area to our left and one of the huge fountains to our right,
The water park, a

flock of American flamingos was a bit of a surprise.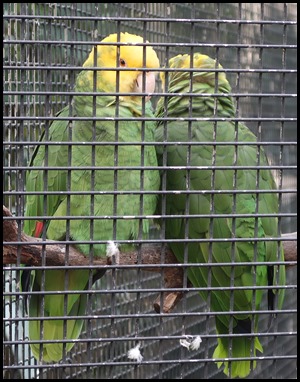 A wall adornment on the way up to the aviary. Yellow heads chatted happily.
A couple of galah, chaps we loved in Australia.
The seven flights were huge arranged around a central keepers hub, we moved from seat to seat as we took in each collection. We watched a keeper throw bits of banana up to her charge, an enormous rhino hornbill, who clucked at her and caught most of the bits. I say clucked, sounds more like a bark. (Lovely to see all feathers in top condition).
The back of the park, a water feature and looking from the aviaries we spotted a mini-McD's, time for an ice cream.
Ice cream in hand we settled by the maze, to our right some old friends first seen in the Caribbean.
We saw a couple of wedding shoots – loved the bridal trainers......
The Hong Kong Orchid Tree - (Bauhinia x blakeana) of the class Caesalpiniaccae. A closer look at one of the tree orchids - my favourite of the day.
We quickly bypassed the Sculpture Garden and followed the high path to the Chinese Garden.
A well-contained banyan except for one root that had set off along a crack in the path. We saw loads of gardeners keeping the plants in tip-top condition. The only 'scruffy' bit was a pond in a far corner.
A pavilion in the middle of a bridge.
Loads of chaps at a regional meeting.
Bear's favourite was this magnificent Chinese banyan - (Ficus microcarpa).
Back to the water park and a thoughtfully named black-necked swan......
We sat and watched the birds. The Park stands where Whitfield Barracks used to be, more than seventy buildings were demolished and the Park opened in 1970.
Our final fountain and pond.
A regal palm with a cheeky bloom peeping out.
Seems somewhat incredible that at the end of this prettily potted path we will be tipped out into one of the busiest streets in Hong Kong – Nathan Road.
ALL IN ALL A WONDERFUL WAY TO WHILE AWAY THE AFTERNOON
A PEACEFUL OASIS IN A VERY BUSY CITY
---