Wanci Spuddle

Beez Neez now Chy Whella
Big Bear and Pepe Millard
Sun 7 Aug 2016 22:47
Wanci Spuddle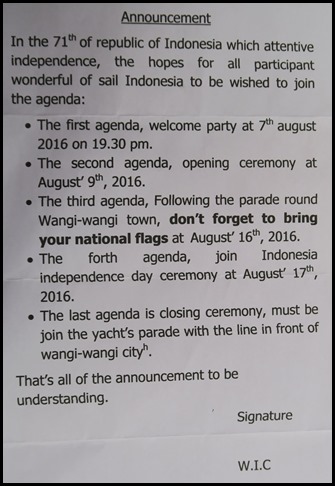 Our letter came via the W.I.C. dinghy (Wakatobi Information Centre) – a joy to read.
Time for a spuddle. We sat and looked at in awe at this lady of the sea.
Three storeys of ugly-elegance or elegantly ugly.... Massive compared to the usual size local lady.
We went out by the busy dredge operation.
A local girl coming in.
Passing the crane.
We went over to the old breakwater made up of our old friends – the concrete tetra jacks. To the left was fairly grey hard coral with the odd little blue fish – as seen through my trusty snorkel bucket. To the right was tallish grass, apparently the spinner dolphins here are tiny and come in at night to sleep in relative safety before getting up and heading out at six each morning.
The new wall looks rather smart from this side. Later, we were told there is a plan to build a marina here in the future.
Passing the next scoop.
We went back to Beez via the reef, at high tide we could probably make it in to the anchorage this way.
In between the odd bits of hard coral we saw our old friends – not seen for such a long time, pin cushions.
A lovely sunset before it was time to head ashore for our 'welcome'.
ALL IN ALL A JOY TO BE SPUDDLING
AN ENJOYABLE SPUDDLE
---