To Pioneer Bay

Beez Neez
Skipper and First Mate Millard (Big Bear and Pepe)
Thu 16 Jun 2016 22:57
To Pioneer Bay, Orpheus Island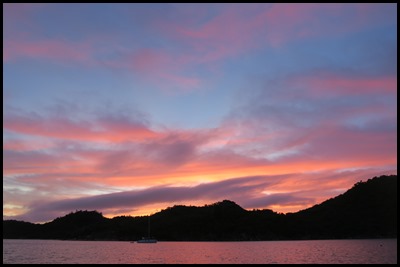 The sun was a bit slack getting out of bed this morning. We were pottering around the estate at half past six waiting for daybreak. These pictures were taken at 07:13 and only moments after our neighbours anchor light went off, 07:30.
On our right - Palm Island with heavy clouds.

As we got a bit nearer we could actually see it raining on the right.

By comparison, on our left Havannah Island was dry and cloudless. Bear put the conservatory up, then down, up for really fine rain, no sooner than he had finished doing up the last zip it stopped. Twenty minutes later a repeat of the process.
Pioneer Bay.
At 14:03 we were safely attached to Visitor's Buoy 882.
Looking over to the mainland. The sun did try to come out, the few times it did it was really hot. Sadly, the wind picked up and by supper time it was pouring very hard.
What are you doing with wad of kitchen roll behind one ear ??? It stops my glasses falling forward. Don't ask, I didn't.
ALL IN ALL A LOVELY SAIL, PITY ABOUT THE WEATHER
A GOOD JOURNEY
---