To Great Keppel

Beez Neez now Chy Whella
Big Bear and Pepe Millard
Thu 19 May 2016 22:47
To Great Keppel Island
I got to have a lie in this morning, well more like a sitting up writing a couple of blogs whilst himself filled the Beez from the diesel jugs. Shaun the caretaker came over to chat to Bear, he had engine trouble on his outboard and was very excited that he had friends visiting who were going to tow him in their boat to get it fixed. He invited us 'up the hill', we would have loved that but another chore was calling and as he was keen to get going Bear thanked him and declined. A while later we both heard a great cheer so assumed he was setting off. I wasn't quite finished the second blog, so I was pleased that the skipper set to his second job. The engine had not wanted to switch off last night. Bear had to bypass the negative fuse from the instrument panel, job done and funnily enough the engine hours that have only worked periodically now show bright and true. Sad to leave our private place but Great Keppel Island calls. Five more journeys and we will arrive at St Bees – then for some days off and enjoy our trips through the Whitsundays.
The lovely thing about today is we can see from our anchorage where we are going, rather reminds of day hopping in the Caribbean, especially now the sea has turned so very blue and just twenty five miles to do.
Ten thirty we were off and Bear settled with his birthday present, his Kobo Reader. He had chosen this over other readers as it is waterproof and he can buy books from anywhere he choses. The books are loaded on a micro SD card, don't think he needs to buy any new ones just yet as he tells me he has about seven thousand.......... Yes, I know he is furry, that's my first job when I get in this afternoon – to get the mower out.
We had a lovely motor-sail in the sunshine in depths averaging sixteen metres below us. Still love the name Hummocky.
Hummocky Island with Ship Rock nearby.

Looking back from whence we came, huge sand dunes to be seen.
Approaching Great Keppel Island, looking north to the south part of the island.
Looking left to the mainland, looking right to the pointy Humpy Island with my Hummocky beyond....love it.
We closed in to four metres below and what a beach, this joins the rocky bits of Great Keppel together.
The anchorage ahead, a little one tucked in and pretty clouds.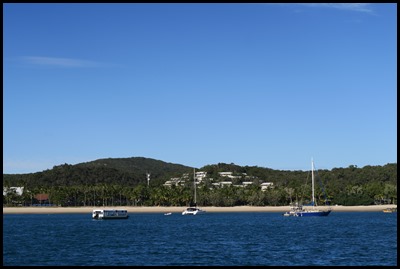 Another beautiful, unspoilt beach. We parked near to the resort with two metres below us to allow for a bit of tide.
Tucked in for the night, the map shows Humpy, just wanted to type that again. The last picture is of a tour boat and sandy bliss.
ALL IN ALL A SUNNY, GORGEOUS DAY
A GENTLE, SHORT HOP IN SHALLOW FRIENDLY WATERS
---