Island Tour

Beez Neez now Chy Whella
Big Bear and Pepe Millard
Fri 21 Jun 2013 22:17
Island Tour On Foot
Bear went off for fresh French sticks early and pottered for a while. I leapt up and shocked him by suggesting today was the day to do his island walk. Before I had cleaned my teeth he had packed a picnic and was by the door. We stopped for an ice cream and the lady said tomorrow, we had to make do with a double chocolate Magnum. The track is just opposite and within minutes we were on the steep upward route.
Bear thought it was hilarious and even I managed a smile.
Ferns everywhere.
Nearing the top of the hill we had a lovely view of the coral reef in the shallows. Beez nearest in, of the group of yachts in the anchorage.
At the top we had a view of Mount Duff and Rikitea below and just a pretty picture.
At the crest we went through a tunnel and out into the sunshine for the steep track down.
Fir cones and fern leaves, not my wished for coconut palms on sandy beaches, but Bear has them on promise for me. Massive trees this side of the hill and many ghost leaves.
A one careful owner at the bottom of the hill, overtaken by trees, this made for wonderful root systems.
Evidence of storm damage. Bear loved this tree, looks like a pair of legs. Finally we see the end of the track.
The main road, we leave the sign behind and Bear admires a dongle.
A wealthy pearl farmers house and wonderful garden. A cycas resplendent and in flower. A first for us, we had a tiny one at home but never seen one in bloom.
A massive front garden and the road goes on, getting much steeper.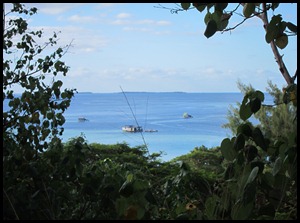 Trees cling on somehow and up high we get lovely views.
We see many pearl farms.
A tiny brindle friend and stunning flowers.
Up another hill, we look back to the far trees, the start of the second half of this short bimble............
Finally we see the Rikitea sign and I say 'thank you', flowers and a poinsettia tree. The odd thing is the silence. Other than the odd cricket we hear nothing but chickens. High on the first hill we were level with three tropicbirds who make an odd duck like sound but that was it. All these miles and hours (don't mention the throbbing feet) we hear nothing else. We have seen weeds – Bear thought it unusual to see thistles, we also saw dandelion, periwinkle, chick weed and many others but a complete absence of stinging nettles.
Now just to get back to sea level.
ALL IN ALL QUIET, TOO QUIET
VERY GOOD EXERCISE
---