To Ao Loh Dalam

Beez Neez
Skipper and First Mate Millard (Big Bear and Pepe)
Sun 22 Jan 2017 23:57
To Ao Loh Dalam
Ao Ton Soi. We had a truly horrendous night rolling side to side, it never let up even when the tide turned.......a charter catamaran so close as to need someone out watching by the anchor for most of the night.......They apologised profusely this morning when our captain visited in order to find out their plans......they left at nine thirty. The site meeting for us - the vote was an easy one. Move. The boys went in for bread and to get rid of the rubbish and off we went.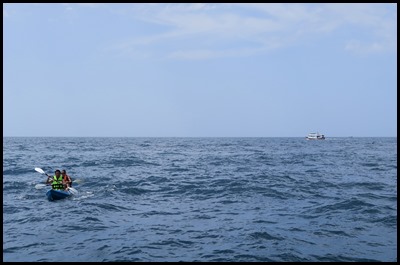 About a mile and half out of the bay we passed a family working hard on their kayak, the little girl seemed quite unconcerned despite the chop and stiff breeze.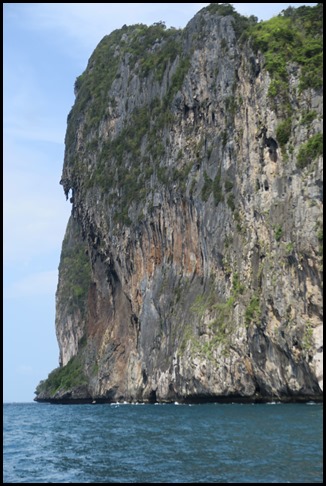 The first corner.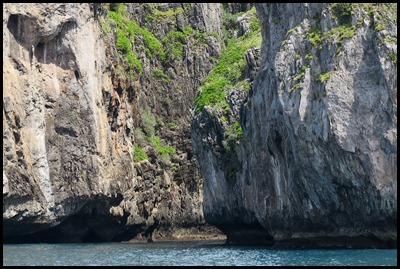 An uninspiring gap ??? – soon interesting when a long tail appeared...................
................that was dwarfed by the massive vista.
Very difficult to tire of this scenery, always new caves and shapes to look at..........
......the colours change all the time too.
A stack that didn't make it.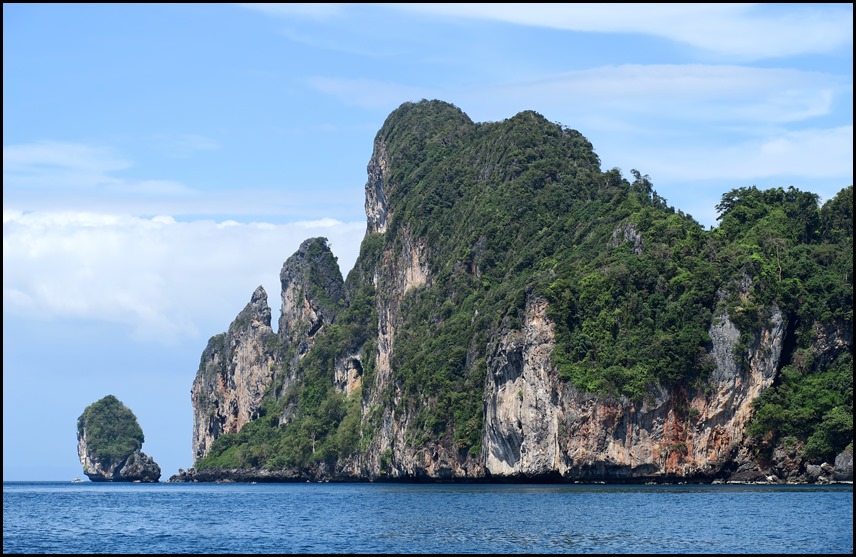 The view to our left as we enter the bay.
Our four mile hop from the yellow star to the red arrow.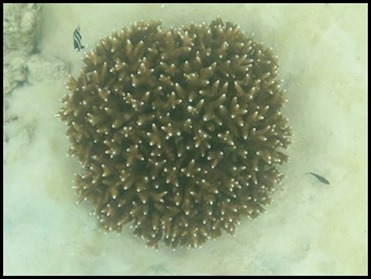 Soon anchored we went off for our first Thai snorkel in the warm water of the bay, a spot all to ourselves. Visibility was fair and it was a surprise to see very little rubbish (just a couple of beer bottles) despite the hundreds of long tails coming and going each day. There was a great deal of dead coral but glimpses of regrowth and a few new lumps of hard coral. Big rocks hid swarms of huge parrot fish in all colours and sea slugs abounded.
.
We saw a chap of the seahorse family, a glimpse of a squirrel fish and a usual suspect.
But it was the clams who stole the show, hundreds of them in every colour, some a few inches across, some up to two feet. We spent a happy hour or so, explored the other side of the bay and got home just before torrential rain fell – yet again with a charter catamaran way too close, after some hand and vocal signals from Bear they upped and went, thank goodness. Time for strawberry daiquiris, showers and lamb shank with all the trimmings. After a few games of Rummikub - where Bear and I were trounced, I beat Alex five two at Sequence to bring us one all – time for bed....... The disco music from the beach seemed to quiet down just then, nice.
ALL IN ALL A RELIEF NOT TO ROLL AND A DELIGHT TO BE SNORKELLING
A PRETTY LITTLE HOP AND AMAZING TO SAIL SO CLOSE TO THE CLIFFS
---