Tower of Belem

Beez Neez
Skipper and First Mate Millard (Big Bear and Pepe)
Fri 29 Aug 2008 23:07
The Tower of Belem
The Tower of Belem was constructed between 1515 and 1521, designed by Fransisco Arruda. It was the fort designed to defend the entrance of the River Tagus. It is a masterpiece of Manueline style and is notable for its imposing exterior and the sobriety of its Gothic interior. I just love the thing and was so chuffed to be able to jump off the bus and spend twenty minutes revelling in the place.
The first view you get from the bus. Me happy to be there and Bear by the model commisioned by The Rotary Club of Portugal.
I have had a few requests to shove more photos of me in the blogs, difficult as I am the photographer and happen to hate having my picture taken, but, just to please, I have put in a larger picture of me showing my cheesy pleasure at being at the door to the Tower.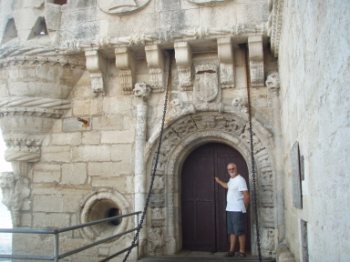 The costing of the renovation speaks for itself, my favourite shot of the frontage and Bear showing the Tower at low tide.
Along the waterfront from the Tower of Belem is this replica of the first crossing of the Atlantic, cannot remember the names, but it was two blokes.
The next along is The Monument To The Discoveries, standing at the edge of the Tagus. Inaugurated in 1960 to commemorate the quincentury of the death of Infante Dom Henrique, who was held captive in Africa and died in prison. Each side of the monument has a ramp with 16 statues each side representing the figures of the most prominent in The Discoveries.
The River Tagus, I thought would look about the width of the River Tamar in Plymouth, little did I know its vast by comparison. The bridge behind Bear crosses at its narrowest point at three kilometers, to The Statue of Christ, arms wide like the one in Rio which weighs 40,000 tons, stands over 100 meters high and was commissioned by the Government to commemorate the Portugese involvment in World War Two. Further along the river is a newer motorway bridge, the longest in Europe at 15 kilometers named after Vasco da Gama.
---