Chums of Penang

Beez Neez now Chy Whella
Big Bear and Pepe Millard
Sat 8 Dec 2018 23:57
Chums and Working Girls We Saw in Penang
It has been such a long time since Beez Neez has minced her way through any chums. We were all delighted and as Bear was on the wheel (autopilot packed up), I could take pictures, take notes, watch the AIS and smile.
Our first chums appeared in silhouette against a jetty. On the left – ST Dimitrios, cargo, length 228.99 metres, width 32.26 metres, draught 7.7 metres, maximum speed 10.3 knots and a good average pootle of 9.2 knots. Deadweight tonnage 82,688 and gross tonnage of 43,158. She was built in 2007 and her flag and home port is the little island of Malta.
On the right –
Core Fortune OL
, cargo, her
length 199.9 metres, width 32.26 metres, draught 7.7 metres, maximum speed an impressive 14.2 knots, her average speed 10.6 knots, deadweight tonnage 60,225 and her gross tonnage is 34,812 tons. Built in 2015 her flag Panama as is her home port.
At anchor was
Ocean Ace
, a cargo girl,
length 189.99 metres, hips 32.26 metres, draught 9.6 metres, maximum speed 10.1 knots, average speed 8.3 knots, deadweight tonnage 55,697, gross tonnage 31,279, built 2005, flag Singapore
. Peeping around her back a little treat.
A working girl looks so teeny weeny as she pulls (against the current) not one but two tows.
We watched as she manoeuvred them alongside the big girl to offload her cargo.

Oceanic Island
looking lovely in the sunshine on our left was a tricky little minx to find out about. Built in 2010, flying the flag of Panama this b
ulk carrier has a length of 171 metres, width 27 metres, draught 5.3 metres. After loading she is on her way to Palembang, South Sumatra in Indonesia. She trots along happily at an average speed of 10.3 knots due to arrive on the 16th of December. To find out her weights proved nudda but if she is the same as one of her sisters her summer weight tonnage is 29,027 tons and her gross is 17,986 tons.
Further along on the left was
Hoang Phuong Lucky,
a Vietnamese girl built in 2000. No weights that I could find but her

length is 102 metres, width 17 metres and her draught 5.6 metres, maximum speed 13 knots, average speed 9.0 knots
.
A fishing girl photo-bombed as I took a picture of
Asean Lady
, a pleasure craft that flies the flag of Panama. She weighs in at 140 tons with a gross tonnage of 2,385. Built in 2004 her vital statistics are:-
length 88.15 metres, hips 21.2 metres and draught 4.5 metres, maximum speed 8.2 knots, average speed 6.9 knots
.
As for the tinker of a photo-bomber, she was leading the charge to market on several other fishing girls all cantering in.
Undisturbed by all the fishing action was this working girl was really grunting under the strain of her tow and working against quite a stiff current.
My favourite lady of the day was
Seaford
a dredger. This 1974 working girl flies the flag of Belize. L

ength 80 metres, width 11.37 metres, draught 2.8 metres, maximum speed 7.3 knots, average speed 6.7 knots, deadweight tonnage 2,700 and her gwt is 1,739. Why was she my favourite..........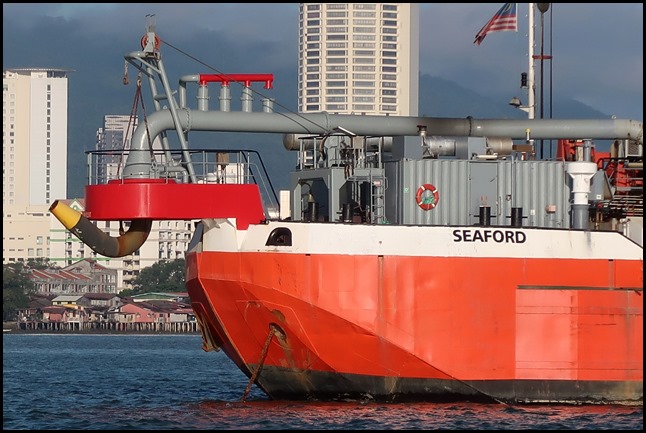 On the cruise dock was passenger ship Leisure World built in 1969 and flying the flag of Panama. What a very strange back end, looks like a dance floor stuck on willy-nilly. Well, anyhoo, she is 160 metres long, 22.84 metres on the hips and her draught is 7 metres. She can trundle along at 12.7 knots but prefers a sedate average of 6.6 knots. Holding her in place were two working girls.........
At her beak was Eagle Ray and at her funny-shaped rear end was Nadyionel.
This pilot called Sri Pereska came in at full gallop, the AIS had her at 18.9 knots – only slowing just before the cruise dock.
Our next port of call in Sri Lanka won't be until after the trade winds settle next season but looking at ship movements today – I for one cannot wait to get in the thick of all these chums (thank you to Marine Traffic)
ALL IN ALL SUCH GLEE
GOOD TO SEE SUCH BUSY-NESS AGAIN
---