PA Isle of the Dead I

Beez Neez now Chy Whella
Big Bear and Pepe Millard
Thu 14 Jan 2016 23:07
Port Arthur's Burial Ground - The Isle of the Dead, Part One
Port Arthur was first visited by Captain John Welsh in his twenty eight ton sloop Opossum when in transit from Maria Island penal station to Hobart Town in 1827. He sought shelter in the harbour, then known as Stewart's, he particularly noted the excellent stands of trees around the shoreline.
On his arrival in Hobart Town Welsh suggested to Lieutenant Governor George Arthur that Stewart's Harbour may well be an excellent site for a timber station. In 1828 Arthur ordered Welsh to return to the harbour and carry out a more detailed survey. He found a safe anchorage with a fresh water creek and his positive opinion of the timber resource was also confirmed. It was during this survey that the harbour was renamed in honour of the Lieutenant Governor and the only small island, Opossum, for his little sloop.
In 1833, only three years after the Port Arthur penal settlement was established, Reverend John Allen Manton selected and renamed Opossum Island, the Isle of the Dead, as the settlements burial ground. For the following forty four years that the Port was to remain convict settlement administrators, soldiers, wives and children, as well as convicts and boys from Point Puer were buried here. A small number of people from Tasman Peninsula outstations and sailors were also interred here.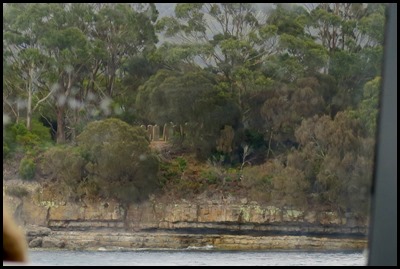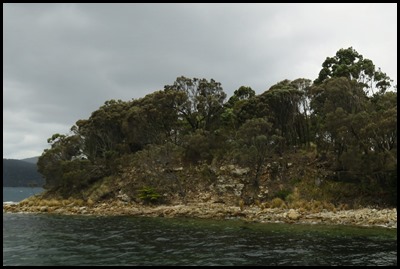 The ferry took us round the island and we caught our first glimpse at the officers gravestones. Our guide pointed to the shore, a plaque used to denote the place where there was a tide mark but it disappeared in 1913. In 1841, the amateur meteorologist and Deputy Assistant Commissary at Port Arthur's prison settlement, Thomas Lempriere (blog – Civil Officers Row), in the company of noted Antarctic explorer Captain Sir James Ross, cut one of the earliest benchmarks in the world against which to measure scientific changes in sea level. Thomas Lempriere was a clever man, it is thought he began meteorological observations around 1837 and took animal, vegetable and mineral samples. For some years he had sent his meteorological readings to London, these records especially his tidal records were highly regarded. Science in a cemetery......
When selecting the island (courtesy of P.A.H.S.M.A.) as the cemetery the Reverend Manton said that it would be: "a secure and undisturbed resting place where the departed prisoners might lie together until the morning of the resurrection". Reverend Manton said in his religious pamphlet that there would be no tombstone or other mark to be placed at the head of the convict graves, and that the only indication of graves reserved for convicts were to be mounds of earth on the southern or lower half of the Island. The high ground on the northern half of the island would be reserved for Civil and Military burials, who were permitted to have headstones. Between 1833 and 1877 over 1000 people (no accurate figures exist) were buried on the Isle of the Dead. The island has two distinct burial sections; with convicts buried largely in unmarked graves on the low southern end, and the free and military burials marked by headstones up on the high northern end. After 1850, some of the convicts ended up with headstones. The first convict to be buried here was John Hancock, as his convict record states that John Hancock alias Wilcox was transported for stealing.
Convict graves, showing Point Puer to the left and the Grave Digger's 'cottage' to the right (date unknown).
The Grave Digger's Hut seen from the north (circa 1890) and where it would have stood.
Gravediggers. It is from Anthony Trollope who visited Port Arthur in 1872, that we learn about John Barron. Born in County Limerick, he was transported for seven years for receiving stolen goods, arriving in Hobart aboard the Rodney in 1853. His Conditional Pardon was forfeited in 1854 when he was convicted of assault in Hobart and sent to Port Arthur. Trollope wrote: "....Barron, who lived in a little island all alone; and of all the modes of life into which such a man might fall, surely his was the most wonderful........ To the extent of the island he was no prisoner at all, but might wander wither he liked, go to bed when he pleased..... and was in truth monarch of all he surveyed." John Barron spent eighteen years at Port Arthur before being released, aged 72 years. He left Port Arthur to find employment and lived as a free man until his death at New Town Charitable Institution on the 9th of November 1892, never having realised his dream of settling in America.
John Barron was succeeded by Mark Jeffrey whose story is told in the book 'A Burglar's Life', probably a psychotic who fought the criminal system for thirty years. He was more fortunate in that he was rowed back to the mainland on Saturday afternoons and returned on Monday mornings. This allowed him to attend Divine Service twice on Sundays and to sleep in the Penitentiary.
The policy of not burying convicts on the higher ground was changed when William Mansfield was buried here (his being the earliest surviving convict stone on the Island today).
William Mansfield died on the the 28th February 1858, he had served several years on Norfolk Island and became firm friends with Thomas Pickering. They were both moved to Port Arthur and after William's death Tom carved his friends gravestone, in the bottom right hand corner he signed it. His rope scrolling was his special mark and we saw several more gravestones chiselled by Tom. Our guide told us that on one tour a couple looked very sad but thrilled to stand in front of WIlliam – they were his descendants. We learned of several more convicts given headstones.
Thomas Pickering. Thomas was a twenty year old single Protestant when he was given ten years transportation for theft in London during 1842. He arrived in Hobart Town aboard the Moffat in November of the same year. Over the years Thomas had numerous other convictions and spent some four years on Norfolk Island. During the years 1856-1864 at Port Arthur he inscribed at least twenty headstones for the island. He left the colony in the summer of 1864 bound for Sydney aboard the Alarin.
Thomas Sanders. A native of Northampton Thomas was transported aboard Sir Robert Peel with a seven year sentence for housebreaking in 1844. Sanders also had numerous further convictions during his life on Van Diemen's Land, including three terms at Port Arthur. Twice he forfeited his Ticket of Leave. During the years 1852-1859 he inscribed at least seven headstones for the island. The last entry on his convict record was his Pardon which was granted in the summer of 1875.
We turned from William and saw the main area, mostly officers and families.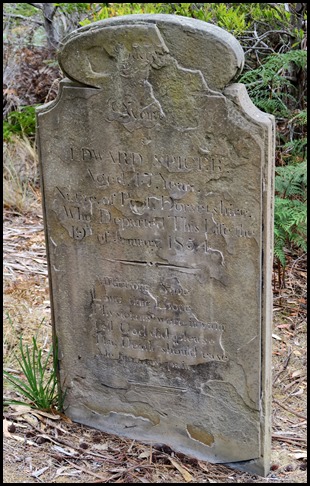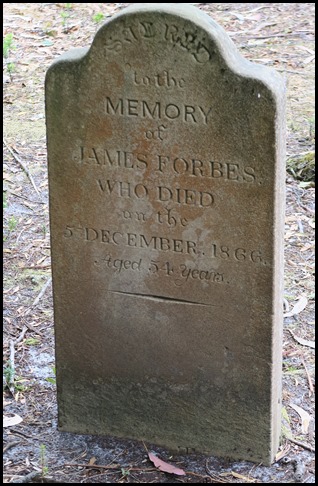 Convicts with headstones. The policy of not erecting convict headstones was obviously changed, as is evident with the first convict headstone that we know of, being erected over the grave of Edward Spicer. It is thought his relatives had the memorial made but it is not known what date it was placed. Edward Spicer aged 47 years. Native of Dorsetshire who departed this life the 19th of January 1854. Afflictions Sore Long time I bore. Physicians were in vain Till God did please, That Death should ease Me from my pain and James Forbes who died on the 5th of December 1866 Aged 54 years.
Not sure if John Owen was a convict or not. Here lie the remains of John Owen who died on the 17th of March In the year of our Lord 1869 aged 76 years. For the last seven years he was the faithful Servant of Dean Maguire Who erected this stone to his Memory.
Continued
---