Fort Napoleon

Beez Neez
Skipper and First Mate Millard (Big Bear and Pepe)
Sat 29 Jan 2011 20:03
Fort Napoleon, Iles des Saintes
We all jumped up early and were ready for the off by eight thirty having decided as a group that we ought to explore the Iles des Saintes. We were here, had not done so in the past, due to my prior lack of 'lurv' for the place. We then decided against scooters - age, lack of experience, our sylph like figures and the very steep and winding roads - led us to opt for a bus. We waited outside the church while Pathfinder 'did her thing' - could anyone resist, certainly not this bus driver. She got him to agree (as there were no cruise ships in and not many tourists around) to take us to the fort, return after an hour. Then take us to the beach leaving us for two hours, for the princely sum of ten Euros each, cheaper by far than two dodgy old scooters, not helped by the orange Berger paintwork. Off we went, Anne feeling very pleased with her efforts in French.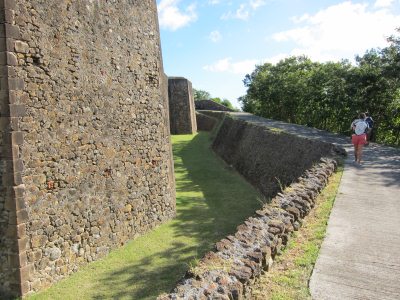 After ten minutes of hairpin bends and a few very close encounters with scooters, our boy taking no prisoners....... we got to the fort. As we walked up the slope the first thing we saw was this wreck of a building. Tourists usually get fifteen minutes here and we thought our hour may be a very long time to fill, however, the next corner brought this magnificent wall into view, Pathfinder of course head of the column. Fort Napoleon is located on Terre-de-Haut Island, in the Iles des Saintes. Built on the "morne" (Caribbean French word for "bluff") called Mire, it was originally named Fort Louis. Good to be here so early, very few here with us.
The wreck from the front and the stunning views from up here (own blog)
.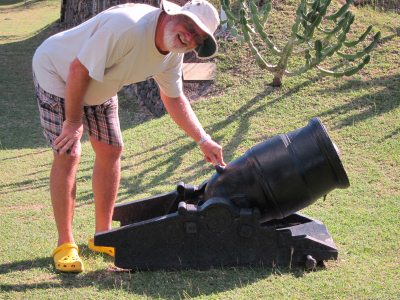 Beautifully maintained gardens and building

.
Within the walls is the Jardin exotique du Fort Napoleon, a botanical garden dedicated to local succulent plants and iguanas
The fort was destroyed by British forces in 1809 and rebuilt during the Napoleonic Era, but never saw use in battle, being used as a penitentiary. It has now been turned into a museum dedicated to the Saintes' history, culture and environment. The entrance - fee four Euros fifty. The bars a stark reminder that this was indeed a prison.
The scale of the wall - we only saw as we walked away when there were people at the top giving some perspective
ALL IN ALL A BEAUTIFUL FORT.
---