Early 65th for Bear

Beez Neez now Chy Whella
Big Bear and Pepe Millard
Wed 24 Feb 2016 23:47
BridgeClimb Sydney – an Early 65th Birthday Present for Bear
Have a think about what you would like to do for your 65th in May. Simple, I would like it now and I would like to walk over the bridge. Rightee-oh then. I'll get booking. That done we arrived today at BridgeClimb for a two fifteen start. Sarah met the six of us on our climb, took a breath test and organised signing medical OK's, what jewellry we could keep on and what had to come off. We moved into the changing area and were given our zoot suits and plimmies. Hair clips out, hair tie and glasses restraints provided. That done we met Alex our guide who organised our belt, a practise stair climb with tether, radios to hear his commentary with ear-phones, clipped on hankie and hat – we were ready. No camera allowed so it was down to Alex to capture our memories.
Needless to say the views were magnificent.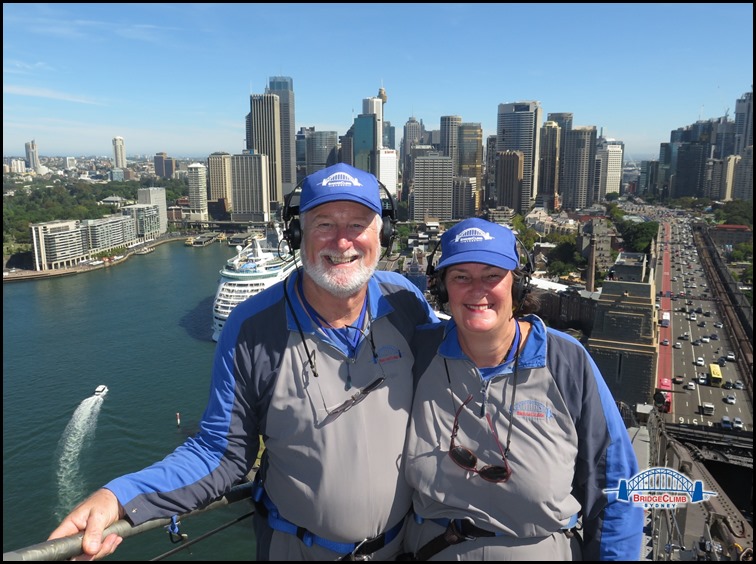 Alex says he will always remember to say "Eyes on, eyes off" as he takes pairs of pictures.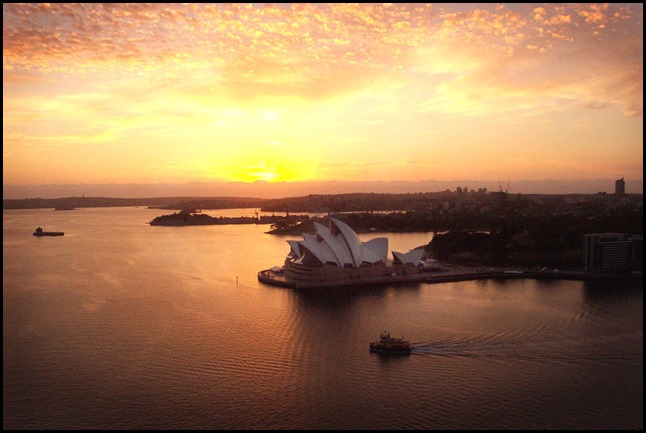 BridgeClimb Sydney is the company that provides climb experiences to the top of the Sydney Harbour Bridge. Over 3 million visitors from over 137 different countries and territories have climbed the southern half of the bridge.
Four different types of climbs can be taken throughout dawn, day, twilight and night, originating with The Bridge Climb, which guides climbers to the top of the bridge in a round-trip that takes over three hours. To better explore the engineering of the structure.
Twilight.
Night.
There have been over 4,000 proposals at the summit of the bridge and couples also have the option to get married on the bridge, 134 meters above Sydney Harbour. The experience has also attracted many famous actors, musicians and members of royalty.
In 2002, Ross Stephens and Giles Tuffin successfully traversed the bridge in full costume, and successfully raised $97,000 for charity.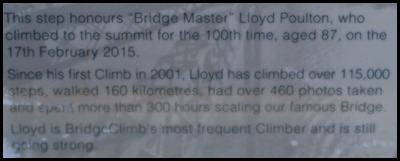 Anyone over the age of ten years and in good health can climb. There is no maximum age, with the oldest climber being 100 years old. BridgeClimb's most frequent climber is Lloyd Poulton, who had done the climb for the 100th time, aged 87, on the 17th February 2015.
History: The concept of BridgeClimb was born in 1989 when BridgeClimb's Founder and Chairman, Paul Cave, AM, helped conduct a Young Presidents Organisation World Congress in Sydney, which included a climb over the Sydney Harbour Bridge. Following this experience, Cave decided to make climbing the Sydney Harbour Bridge a permanent attraction. This led to many years of dealing with state and local government bodies, community groups and many experts on safety, logistics, media, heritage and conservation issues. After nearly ten years of research and development, BridgeClimb Sydney was officially launched on October 1, 1998. At that time, BridgeClimb was the first tourism operator on a bridge anywhere in the world.
In October 2009, BridgeClimb Sydney opened the Sydney Harbour Bridge Visitor Centre. The Visitor Centre houses a Bridge Exhibition and a high definition Bridge Cinema, which we visited after our climb.
The Bridge exhibition houses the stories of the Sydney Harbour Bridge through exhibits and interactive displays. This includes the stories of the engineers, designers, skilled tradesmen and labourers and the 16 men that lost their lives during its construction. The exhibition also documents the events that took place and the people that participated in the Sydney Harbour Bridge's famous opening ceremony in 1932.
Our small group of six. At the front a chap afraid of heights but happy to do it for his lady-love's 21st birthday. Next a couple from Yorkshire on a cruise and us.
We all saw a cruise ship leaving dock and Alex was kind enough to let us watch as it went under the bridge, under us in fact. She hooted when she saw us waving and we photo-bombed so many pictures taken by the hundreds of passengers aboard. We'll leave with our special pictures.
ALL IN ALL UNFORGETTABLE
ABSOLUTELY FANTASTIC – ONE OF THE BEST EXPERIENCES, EVER
---