To Coasters Retreat

Beez Neez
Skipper and First Mate Millard (Big Bear and Pepe)
Mon 7 Mar 2016 23:47
We left Refuge Bay this morning.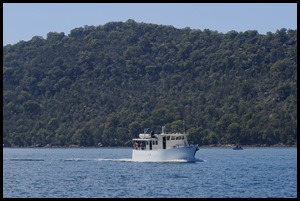 Out into the fairway, just one lady passing by and everywhere huge scenery.
Far to the right, in the distance many boats on the Hawkesbury River.
Our new friend Seahorse Mercator passes.

Another quiet beach.
A morning sail.
We turned right at Barren Joey Light, we will pass by on the morrow on our way out to sea.

We round the corner to see houses and a seaplane.
We watched as he took off, loads of yachts in the background.
We pulled into Coaters Retreat, smoke rising. We do hope it is controlled undergrowth burning, but the site of a helicopter raises doubt.
Safely tucked in, ready to go to Newcastle on the morrow.
A lovely beach over to the right of the bay, but another helicopter, tiny at the top ???.
ALL IN ALL NICE BAY, SAD TO SEE BUSHFIRES
NEARLY READY TO SET OFF NORTH
---