To Sakatia Island

Beez Neez
Skipper and First Mate Millard (Big Bear and Pepe)
Thu 8 Aug 2019 23:57
To Sakatia Island
Nine thirty and we were ready to leave Russian Bay. (Sad to go but I need the internet – to carry on with on-line banking we need a card reader and I have to email the bank to see if they will send it to Hellville). Just a mile and a half out of the bay, back on line.
I settled in the sun to start cleaning the stainless.
Our short journey across the Baie d Ampasindava.
As we got nearer we could see a few yachts at anchor.
A frigate bird swooped nearby..............
.........then we saw why, a huge bait ball scruffed up the surface.
Looking back toward Russian Bay.

The beach we anchored off and further to our right.
Local ladies and ferries alike all waved in welcome.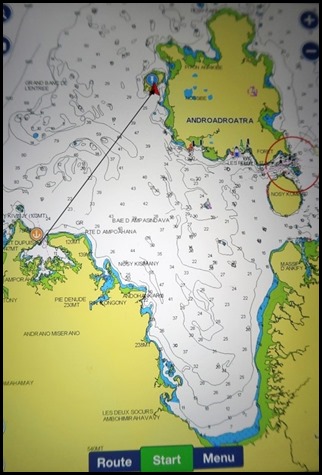 Our journey of seventeen and a bit nautical miles.
Looking across to Nosy Be one and a bit miles away.
Sunset. So looking forward to exploring the island on the morrow.
ALL IN ALL A SMASHING LITTLE HOP
A VERY NICE DAY
---