Birthday Island

Beez Neez
Skipper and First Mate Millard (Big Bear and Pepe)
Fri 28 Jun 2019 23:47
Birthday Island
After a lovely morning and fry-up we set off for Birthday Island (aka Ile Mapou but as it is my naming day......renamed). Such a dull day we had the lights on but we both felt it was worth going out for a breather and short bimble, if the rain held off. Rain clearly visible to the right of Boddam Island and Passage Island.
Ile de Pass on the left and our destination to the right, the depth gets shallow to about four feet a long way from the island.
Once in shallow water we watched for the odd bommie, the colour gorgeous.
Birthday Island.
We headed to the left as we saw a long sand spit.
I jumped out when the depth dropped to a foot and towed Baby Beez for a hundred feet or so. Nearby a stingray made to run.
Off he went as a baby lemon shark skittered away too.
I headed off along the sand spit as Bear beached Baby Beez.
Ten to three in the afternoon and it really was that dark. Just as quickly things brightened, speedy clouds or what.
A meeting of baby hermit crabs and Bear points at a splendid burrow.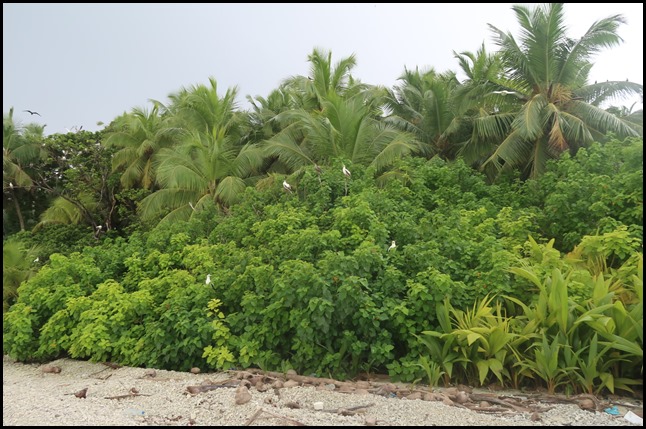 Behind us young red-footed boobies (Sula sula), the smell of guano quite ripe.
A brown booby (Sula leucogaster) in the middle.
We both have a soft spot for boobies. Remember the eighteen hours we had with the boys and you wouldn't let me tack en route to the Galapagos. Yes, but they were so grateful for the rest.......not to mention all the poop.
Crabs everywhere we looked, I was having a great time. Then.......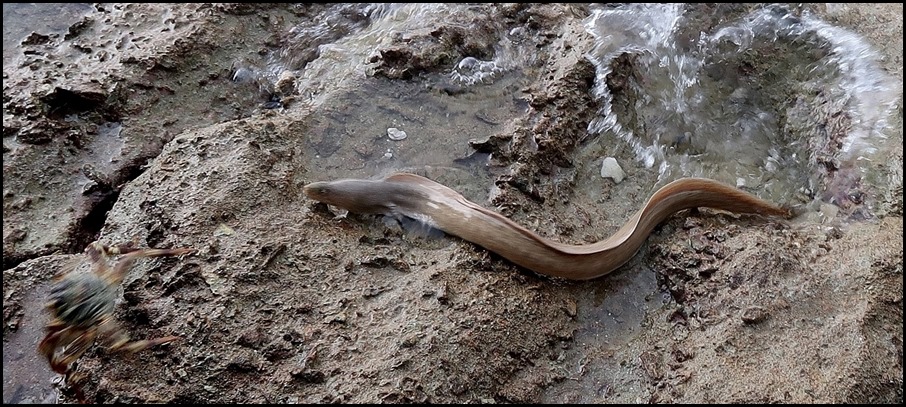 ...... a young moray eel shot over the shore reef chasing a crab at lightning speed, but the crab was faster moving in a blur of action.
Failing, the eel slithered down a gap to lurk in the shallow water and wait for the next opportunity. The crab stood stock still in relief. We then saw a second eel. What an experience to have watched the hunt.
Word went around and everyone was now on high alert.
Back on the sand spit the sky looked quite nice.
Quite a gang settled on the dead tree in the shallows.
We set off under a changeable sky and on a whim decided on a quick stop on Yakamaka Island.
Lots of noddies on the wing to look at along the way.
ALL IN ALL THE EEL WAS A REAL BLUE PLANET MOMENT
A SPECIALLY ORCHESTRATED BIRTHDAY TREAT !!!
---