Tito

Beez Neez now Chy Whella
Big Bear and Pepe Millard
Thu 18 Sep 2014 22:57
Tito or More Formally Western Albertito
There we were nearly to Picton, parked at the lookout, in the drizzle. Our view to the left was up the Pelorus Sound and in front the timber loading yard of Shakespeare Wharf. Just then, as if by magic, the back end of a lady came into view. How wonderful, time to settle for the show.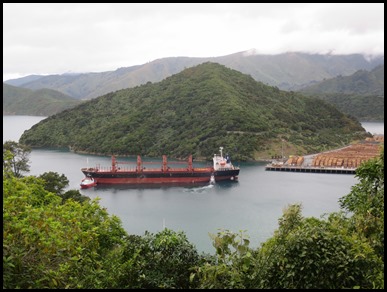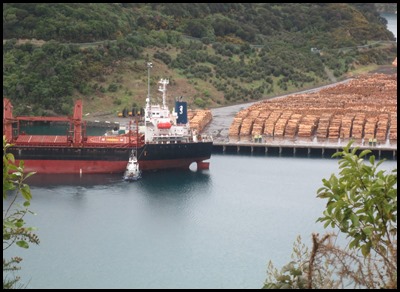 Two working girls pushed and pulled and in no time the chum was nearing the wharf.
Now we could see the chum was called Western Albertito.
One final push and pull from the working ladies. We could see the road we had just driven to Tito's right.
Lots of men appeared in the now driving rain to take her ropes. All safe now.
Of course I looked her up later. The bulk carrier Western Albertito, IMO number 9289855, MMSI 538004435, had her keel laid on the 15th of June 2002 and she was launched on the 13th of February 2003 by Imabari Shipbuilding of Japan in 2003.
Called Ace Bulker until August 2011 - I don't think much of that at all, Tito as I will call her, has her home port in Majuro in the Marshall Islands, her gross tonnage 16966 tons, her dead weight tonnage is 28498 tons. Maximum speed of sixteen knots, she cruises along happily at eleven. Length 169.260 metres, width 27 metres and draught nearly 10 metres. From the end of September – when I wrote this blog, she is at sea, due in to Incheon, South Korea on the 11th of October at three in the morning, her last port of call was Noumea, in New Caledonia. Last Christmas she was in Portugal, then to Denmark, Poland and on to Gibraltar, a very busy lady.
Safe winds and following seas.
Imabari Shipbuilding is Japan's largest shipbuilder, both in newbuilding tonnage and shipbuilding sales. The company is one of only a few dedicated shipbuilding companies capable of constructing large-size container carriers. They began building ships in 1901 and launched their thousandth lady in 1997. A visit to their massive port may have to slip on the Bucket List..... I have no doubt looking at the sheer size of the place.
Tito safely tethered, we left our lookout to drive round to the next one over the wharf. The $12 million wharf in Shakespeare Bay, Picton began log exports in April 2000.
From our new position we could look down on queues of lorries and trailers coming in with their loads.
Check in took just a few minutes.
We watched a log lifter unloading a scow.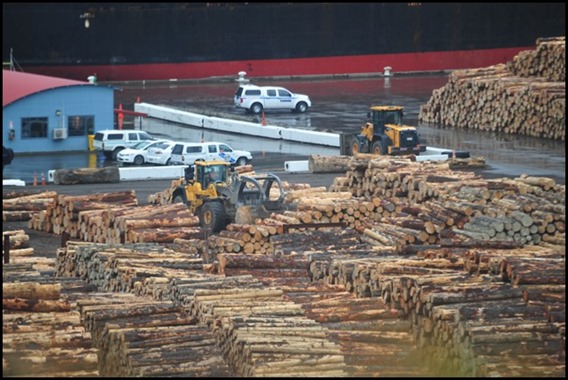 The we saw a Volvo holding a massive tree stump and use it like a tamper to straighten the log piles.
Clearly a big job done well.
The top ten exported goods in millions of New Zealand dollars are 1. Milk powder, butter, and cheese 13,590. 2. Meat and edible offal 5,276. 3. Logs, wood, and wood articles 3,858. 4. Crude oil 1,727. 5. Machinery 1,527. 6. Beverages 1,491. 7. Fruit and Nuts 1,483. 8. Fish 1,327. 9. Aluminoids, starches and glues 1,253 and 10. Electrical machinery and equipment 1,066.
The top five customers of New Zealand's exported goods for year ending December 2013. 1. China has just taken over from Australia as the country's biggest importer with 9,965 million New Zealand dollars. 2. Australia 9,125. 3. USA 4,071. 4. Japan 2,829. 5. Korea 1,633 - The UK at 1,397 come in sixth.
Sadly, time for us to head into Picton and find our last campsite on South Island.
ALL IN ALL WHAT A FAB WAY TO SPEND AN AFTERNOON
BIG BOYS TONKA TOYS
---