To Our Champagne Valley Digs

Beez Neez now Chy Whella
Big Bear and Pepe Millard
Sat 30 Nov 2019 23:27
To Our Champagne Valley Digs
We left Richards Bay at eight thirty with our trip companions Trevor and Kimi (Slow Flight), en route to the Champagne Valley with stops at the battlegrounds of Isandhlwana and Rourke's Drift. Soon out in the countryside we were to pass mile upon mile of eucalyptus forests and logging operations.
An extensive area ready for planting eucalypts.
Miles of rolling hills.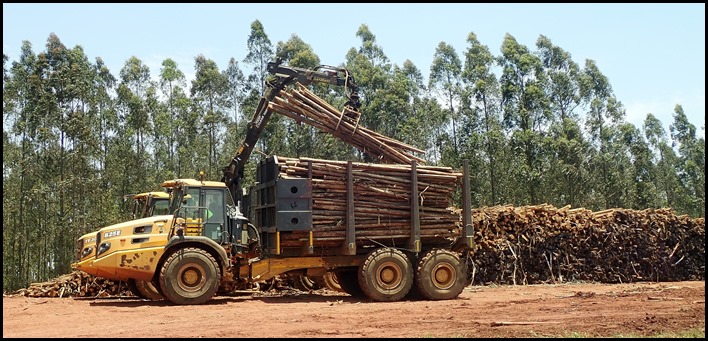 We passed a main collection depot, logs ready for when 'the big trucks' come.
Twenty-five minutes later, a village.
Sheep grazing on the side of the road and cows on the hill.
Little villages dotted about.
A school and a water mill.
We'll stop for this chap then.........
Mountains to our left and then miles of flat scrubland before things got very dry indeed.
Over a hill we looked over our first destination - Isandhlwana.
After exploring the battlefield I got the trio to pose, under what will now always be known as Pepe's Tree.
Just as we left the site a little kid jumped on a rock and cried out for his mum, a little way off.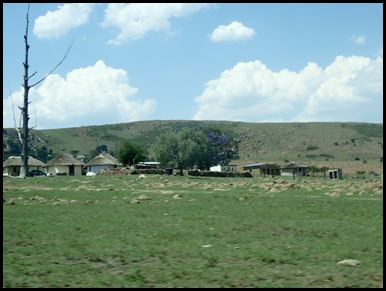 Scenery along the way.
We passed a small village and saw a traditional prayer meeting, all were dressed in white in the middle of a white stone circle.
Approaching Rourke's Drift.
Our digs in the Champagne Valley.
Inside, we were welcomed by the owners of River Crossing – Ernest and Michelle. Then the girls got down to unpacking all our kitchen stuff as the boys made short work of emptying the car.
To the left of the kitchen a double with en suite shower, to the right two singles with en suite shower. There was a little argy-bargy but as soon as Beds had staked his claim and the beds were pushed together, all was well.
After settling our belongings and enjoying sweet and sour chicken, we took drinks to sit on the patio and take in our scenery. Even in the dull evening light we could see this was a place of beauty.
A little chap on the roof was very proud of finding some nesting material but in the tree down the garden a big boy had the little ones scarpering to hide and take advantage of an early night, not that we did.......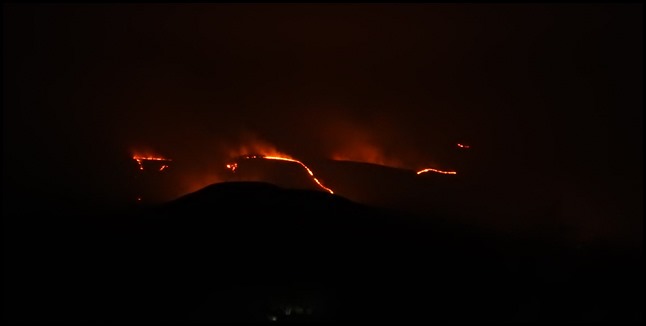 With darkness came the sight of farmland fires.
ALL IN ALL LOVELY SCENERY ALONG THE WAY
GREAT TO SEE INSIDE THE COUNTRY
---