1st Week in Fiji

Beez Neez
Skipper and First Mate Millard (Big Bear and Pepe)
Sun 14 Jun 2015 22:57
We cannot believe we have been in our new country for a whole week, how quickly the days have passed. Bimbling into town is a joyful experience, so many greetings - "Bula", the prices are reasonable, if not cheap and I have a new friend in the video shop, we have an agreement whereby I take back all I copy and get a hefty chunk discounted from my new pile.
Bear would have been right at home settled along the table from Henry the Eighth, eating his way through a colossal pile of meat and tossing the bones over his shoulder, I thought that as he finished his lamb shank. Marvellous. At the same time we were being entertained by a band, the lead singer did a fantastic job with Neil Young but a few others were a little painful on the fillings, all finished by ten. My backgammon throwing arm is suffering in the change of climate and even Mexican train dominoes is a little off. Long may it continue. Huh.
On Tuesday it was lovely to look out the back of Beez and see Scott-Free, Sheer Tenacity settled a little further down the Creek. Out went the Stealthy Six for a celebratory lunch at the Surf and Turf. Massive platefuls and several beers at the poshest place in town came to eight pounds per person. From then the weather took a dull turn, the wind grew over the next few days and we found on board jobs in some really heavy tropical downpours. Bear spent a day trotting backwards and forwards to the petrol station – just across the road, so we now have a full complement of diesel once more.
Thursday. There was great excitement as some heavy machinery was delivered to the island opposite, plans are for a new marina and clubhouse have been approved so work is due to begin soon. A very skilful captain made the whole process look very easy wiggling through the mooring field. To the far left of the picture you can see the Hospital Ship in for a mercy visit. All day a steady stream of toing and froing goes on as patients are delivered via helicopter and landing craft.
The skipper of the delivery vessel caused quite a cloud as he reversed. I was really impressed with my new artwork, in the shape of a rather nicely coloured mossie coil. Too brittle to separate I lit the outer and left it to see what would happen. Result was the outer ring happily burned and the inner was left untouched, this finding will be repeated from now on. A delivery to the laundry at the back of the shower block, a lovely lady works all day and promises to get everything washed, dried and folded by the next day.
A new number plate to add to the collection.
A successful trip to the covered market.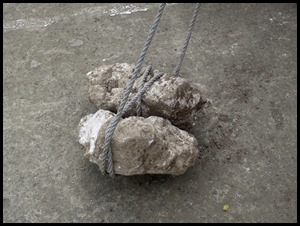 How to hold down an awning. A great hair-do and a fancy taxi waiting for customers at the Rank.
A couple of 'One Careful Owners' down the Creek.
We've not seen scaffolding like this for quite some time.
A pretty sunset.
Today we began the day with boiled eggs, perfect, not a crack let alone an event in sight. At one the Stealthy Six and two other boats all joined Curly at the Surf and Turf to listen to the 'Dos and Don'ts of Fijian culture, where to visit, where we cannot, dodgy entrances, reefs and all the must not misses, with really useful chartlets complete with a comprehensive list of waypoints. We listened attentively to how we greet the 'spotter' of a village who will meet us on shore and how we ask to see the Headman. He will organise a sevusevu or kava drinking ceremony with the chief. We have to dress in our outfits, Bear must sit cross legged, I have to tuck my feet one way or the other and we must never show the chief the soles of our feet. All well and good, we just hope there will be a strong posse in the villages we visit who can get us upright at the end of it all. This coming week we will find ourselves in a shop that will produce bundles like the one Curly is holding in the picture, weighing about three hundred and fifty grams. We need to buy three kilograms of the peppery tasting 'stuff', keeping a kilo for emergency payment for help provided by a village, if the need arises. The rest will be made up into presentable bundles in the latest newspaper we can get our hands on. The villages will carefully peel away the paper and every word will be read, digested and discussed.
All this is literally uncharted new waters for us all. By a quarter past four we had plans forming, the trouble is the strong wind advisory is still in place, so we may need to stay put for another week, which is fine as we haven't done any local exploring yet.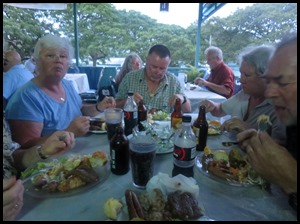 At five we returned to our places at the Surf and Turf for a very well attended three course 'eat all you can eat' barbecue for the princely sum of eight pounds a head. Full and content a nightcap on Beez with a very pleasant trio playing on the lawn 'at home' at the Copra Shed.
ALL IN ALL ACCLIMATISING AND SETTLED
WARM AND FRIENDLY
---