Expensive Ladies

Beez Neez
Skipper and First Mate Millard (Big Bear and Pepe)
Wed 7 Aug 2013 22:57
Ladies Over The Other Side of the Harbour
We got up one morning and this was the view from our kitchen window. Meet the busy cleaners of A.
One of the strangest looking ladies we have ever met.
Later in the week we watched her leave.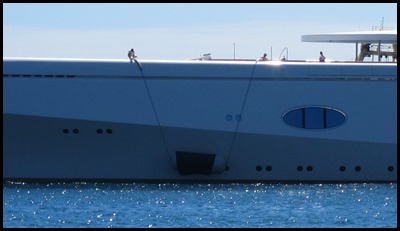 It took two chaps to pull up one of her fenders, ably watched from the front.
M/Y "A" is a luxury motor yacht designed by Philippe Starck and Martin Francis, and constructed by Blohm + Voss at the HDW shipyard in Kiel, Germany, at a rumoured cost of $US300 million. With a length of 390 feet and displacing almost 6,000 tonnes, she is one of the largest motor yachts in the world. Named for the first initial of her owners, Andrey and Aleksandra Melnichenko, her provocative styling has polarised opinions since her launch on the 3rd of January 2008 (order placed November 2004). She has evoked comparisons with submarines and stealth warships, while commentators have referred to her as the "most loved and loathed ship on the sea".
Her 12,000 hp engine makes Beez 50 look a little weeny, but she can speed along at 26 mph on her two MAN RK280 diesel engines and manage 7,500 miles between fuel stops, hear Beez sniff with her nose pointed skyward, Think of the cost of that. No, not at a dollar a litre. A can accommodate a crew of between 37 and 43 looking after guests that can land on the forward helipad.
We will leave her with a quote from Robert Frank, The Wall Street Journal, 23rd of January 2008
"I'm all for innovation—as I've said before, the rich are free to spend their money as they like, including by building ugly boats that cost hundreds of millions of dollars. But seeing pictures of Sigma almost makes Tom Perkins' Maltese Falcon look like an act of restraint and good taste. Now that's a nautical achievement."
We bid her following seas and maybe a few fans........
History: Lady Yule ordered three private yachts in 1929 from John Brown & Company, Clydebank, with Nahlin being the first built. In 1934 Nahlin was classified as one of the biggest private yachts ever built in the U.K. In 1936 Nahlin was chartered by King Edward VIII and used by him and Mrs. Wallis Simpson during a cruise in the Adriatic Sea, gaining the nickname 'the loveboat'. The yacht was bought in 1937 by King Carol II of Romania for £120,000 and renamed Luceafarul, and later renamed Libertatea.
After World War II, She was owned by the Romanian Ministry of Culture under order no. 3041, and placed in service as a charter yacht, a sailing museum of yacht building and development, as well as a floating restaurant on the river Danube.
After the Romanian Revolution of 1989, the yacht was sold to Regal S.A., a privatised company based in Galati, Romania, which in turn sold it in unclear circumstances in 1999 for as little as US$250,000 to Edmiston, a British-based company. Although the ship, named at that time Libertatea, was categorised as a Romanian national treasure by Ministry of Culture order no.3041/1998, and legally could not be sold to a foreign company and exported from Romania, in 1999 it was issued a temporary export permit. Following a 15-year process of stabilisation and restoration led by G. L. Watson & Company, the ship was recommissioned in 2010 as the Nahlin and is now owned by Sir James Dyson, who reportedly spent twenty five million redecorating her.
The Nahlin is 296 feet long, and has a beam of 36 feet with a DWT of 1574. Her draught is 14.5 feet and is fitted with a propulsion system providing 2x200 hp, a maximum speed of 17.1 knots, she recently averaged 9.7 knots. She can carry a staff of forty seven to take very special care of fourteen guests.
We sat at dusk and watched as the lady at the front waited patiently for ten minutes to perform the 'taking down of the flag' ceremony.
Australian billionaire James Packer, son of media mogul Kerry Packer, inherited Arctic P upon his father's death in 2005. This giant is the 50th largest yacht in the world measuring in at 287 feet eight inches, had a $10 million dollar refit recently.
Now walking past her the other day I happened to comment how scruffy the area below where the anchor sleeps looked, in fact more than a bit rusty.
Well they must have heard me, as the next time we bimbled by there was a man dangling, supervision from above.
Just in front of Arctic P coral life continued unbothered by the events above.
Very smart.
We still cannot work out her back end....
Out of curiosity Bear looked up the most expensive boat in the world and found her to be called History Supreme.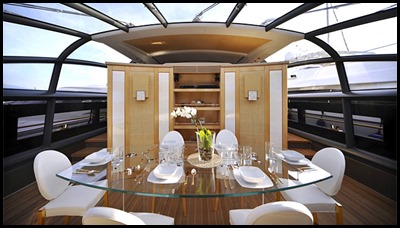 This little hundred footer cost a staggering 4.5 BILLION dollars taking three years to complete, designed by jeweler Stuart Hughes. She has one hundred thousand kilos of gold and platinum wrapping her frame, a statue made from TRex bones, tiny meteorite parts as embellishments and to cap it all a liquor bottle featuring a 18.5 carat diamond..........She is owned by Anon but he is thought to be a Malaysian businessman called Robert Kuok.
I looked up the current Top Ten ladies. (Other than number three, all photographs courtesy of Wikipedia).
1. Supreme Highway, above.
2. Eclipse owned by Roman Abramovich's, cost around $1.2 billion, she is 560 feet long, this luxury yacht has defense technology that would protect a small country. There is a missile detection device, an anti-intruder alert, an anti-bugging system and an anti-paparazzi system to keep her private with a capitol P.
3. Streets of Monaco. (photograph above courtesy of Laughing Squid) This lady is a miniature Monaco. A go-kart track on deck, surrounded by reproductions of the Loews Hotel, the Hotel de Paris, Monte Carlo Casino, La Rascasse and Café de Paris. At $1.1 billion her five hundred feet also has tennis courts, swimming pools, a café bar with underwater views, a mini waterfall, a penthouse-sized apartment for the owner and luxurious suites for the guests. Current status, For Sale.
4. Dubai. (AKA Platinum 525), this $350-million vessel is owned by the reigning Sheikh of Dubai. Luxury abounds on this 525-foot lady include a swimming pool, spa, helipad, a glass staircase and so much more.
5 Superyacht A, (top of blog).
6. Al Said. Valued at $300 million, this lady has an aluminum superstructure, can comfortably accommodate 70 guests, with a crew of 154 people to keep everyone happy.
7. Dilbar. Owned by Alisher Usmanov (named after his mum), Dilbar cost $263 million. A crew of 47, a helipad, lavish accommodation for 20 guests and more. Dilbar ferries her owner to visit his private isles.
8. Al Mirqab. Owned by Qatar Prime Minister Hamad bin Jassim bin Jaber Al Thani, the Al Mirqab is valued at $250 million. 10 suites for 24 guests are entertained in a cinema, sunbathing space, swimming pool, helipad, two VIP rooms.
9. Lady Moura. A private resort slides out of the side of this $210 million lady, complete with deck chairs, palm trees and sand. She is owned by Nasser Al-Rashid, a multi-billionaire from Saudi.
10. The Rising Sun. Owned by David Geffen, an American media magnate. This $200 million, 454 foot lady has a film theatre, a basketball court/helicopter pad, and an impressive wine cellar.
Would we change Beez Neez for any of them??? No, we have far too much fun, don't need a crew and can come and go as we please. Simple bliss.
Back to local visitors. A lady called Tango, we thought quite pretty.
ALL IN ALL LADIES WHO NEED A FLEET OF CLEANERS
GOOD FOR THE LOCAL ECONOMY
---