A & E Seaton Beach

Beez Neez now Chy Whella
Big Bear and Pepe Millard
Sat 4 Aug 2018 22:57
Andrew and Edward to Seaton Beach
All the years we have been in the south-west, neither of us have ever spent a day at Seaton Beach, just twenty minutes from where we are based on Eva (the caravan). By ten o'clock we were settled, why oh why does it always look as if we have come away for a fortnight. Andrew looks to scope out his first adventure.
Edward already paddling in the creek exploring.
Grandma made a pond using the beach kit box, Andrew filled his bucket after being shown how to scoop water without sand and Edward helpfully collected water in his watering can and mother duck..........
Time to find some flat stones..........
........to make a really good splash.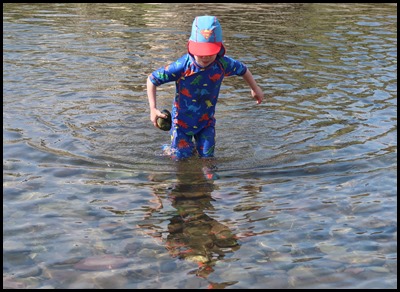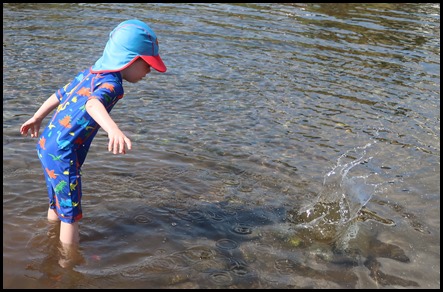 Hard work but the splash makes up for it.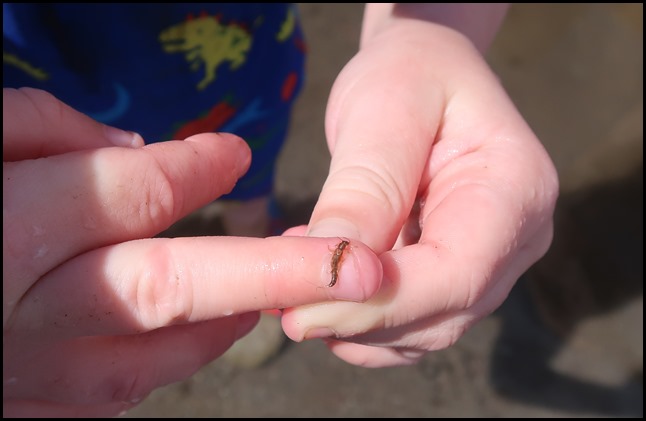 Finding a massive sea creature.
Mother duck heading for her sea trial.
A rock came back to base for a wash.
Lunch time.
Edward's pose time.
Andrew's pose time.
Pond replenishment exercise.
Really got the hang of water with no sand.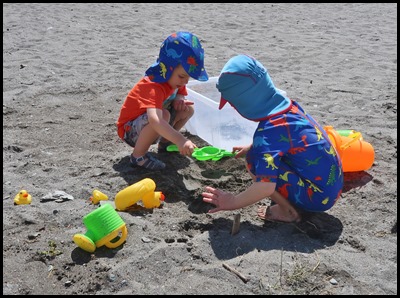 Brothers hard at work.
Ice cream time. I really do not know what possessed me, I completely forgot about the size of the boys and ordered everyone two scoops. Huge......
What seemed like fifteen minutes later, we are all still battling our way through – the other huge battle was stopping Edward biting the bottom of his waffle cone and letting floodgates open......
Edward mid-sneeze, revving again and ending another. Guess what happened to the front of grandma.....
...just to get this cheesy grin. At this point I got grandpa to race away for two tubs and spoons. By the time I had 'tidied up' the boys and eaten my own I felt like I had just consumed barium meal........
Grandma checking out the moat, under supervision.
Grandpa's role as quantity surveyor clearly over.......
"More water grandma" said my supervisor. All of a sudden it was six o'clock. Back to Eva for supper, showers and a the second half of Beauty and the Beast before we all fell into bed exhausted.
ALL IN ALL A REALLY GOOD DAY
FAMILY FUN IN THE SUN
---