Buck Island

Beez Neez
Skipper and First Mate Millard (Big Bear and Pepe)
Fri 4 Mar 2011 22:22
Buck Island National Wildlife Refuge
We went ashore to await embarking on our Buck Island snorkeling trip with Big Beard. We couldn't go on Beez Neez as you have to have a National Park Permit (would take a week to come through - all very tempting to stay but that would put our time schedule seriously behind - must get to New York by the end of June - must think of hurricanes etc etc). Bear looked cool in the early morning light. I took this shot of the back of Big Beard's motor catamaran with Beez Neez visible through the arch.
An amazing shot of a sea plane taking off at the rear end of Beez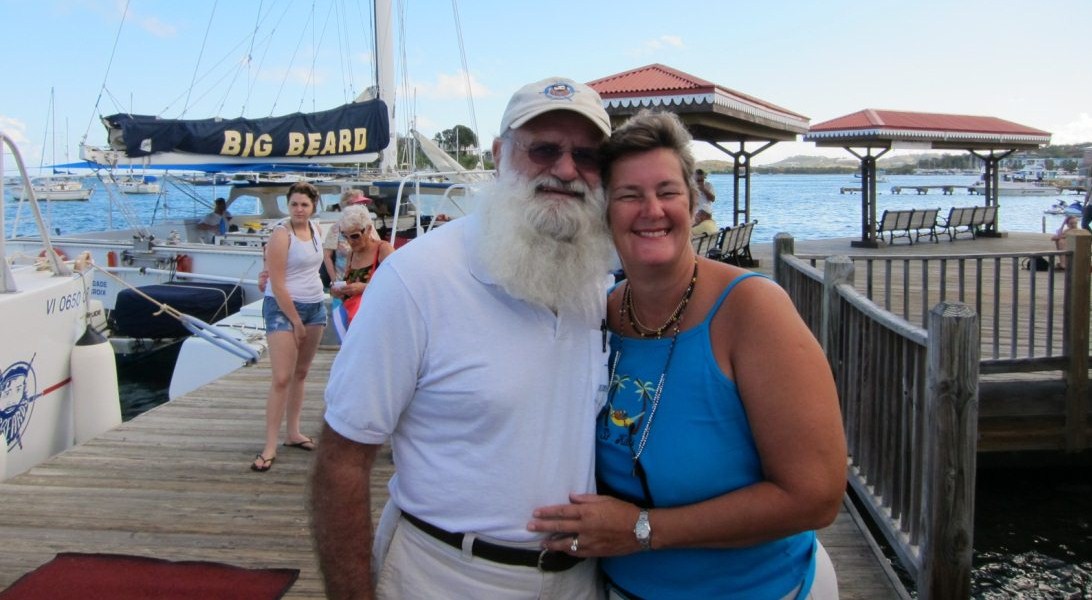 Big Beard came over for a chat (the beard is really fluffy and soft) aka John Casey - once shaved off for charity, painted green on St Patrick's Day
We soon got going with Aaron as our skipper, we pulled in to Buck Island to wander on the beach for half an hour, yes, the sea really is that colour. Renegade (sail catamaran and used for an all day trip) pulled in beside us, her captain is husband to our Aaron.
Soon it was time to don our National Park pinnies (by law), have our safety talk and off to see below. The visibility is a hundred feet in just twelve feet of water
There are actually two "Buck Islands." The National Wildlife Refuge occupies the one near St. Thomas - we pass on the way in to Charlotte Amalie. This one just north of St. Croix is the centerpiece of Buck Island Reef National Monument. Adjacent to the refuge is Capella Island, about half the size of Buck, owned by the territorial government. The refuge is characterised by a thorn scrub habitat with rocky coastline surrounded by spectacular reefs. A lighthouse (still maintained by the United States Coast Guard) stands over forty five acres of cactus and grassland.
The island was transferred to the United States Fish and Wildlife Service due to "its value for migratory birds." The U.S. Navy transferred some lands in 1969 and the remainder was received from the Coast Guard in 1981. The surrounding waters contain reefs and a shipwreck that attract large numbers of snorkelers, divers, and boaters. Buck Island NWR is administered as part of the Caribbean Islands National Wildlife complex and we are here as it is in "1000 Places to see........" book.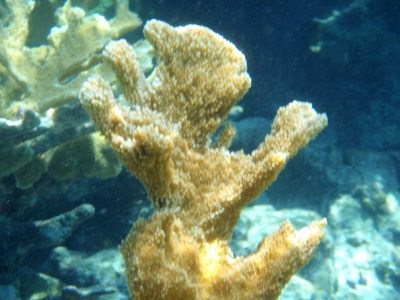 We saw the usual suspects. We were horrified at the hurricane damage to the reef (looks like a bulldozer has gone through cutting everything down in it's path) fortunately we saw new grow and in time this reef will recover fully. It was fun to watch the impossible angles the fish can eat at and hear the scraping noise of teeth on stone. Below is one of the plaques marking an underwater guided tour, some though were clearer than others - we thought it was a great idea though.
We watched a regional meeting and a full conference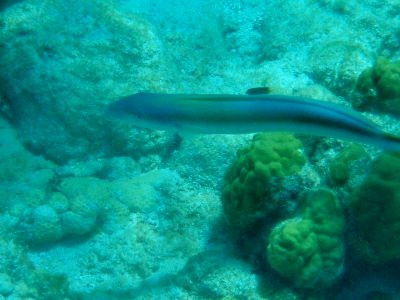 Bear pointing out a new one on us - the line fish - that's his name a line fish
I tried hard to get in front of this four foot barracuda but he was too quick for me. A faithful little convict
Our hour went by so quickly and all too soon it was time to board the Adventurer for our trip back. Maybe slightly disappointed when the advertisement boards only show a perfect reef.
ALL IN ALL GLAD WE CAME
---