Harbour Bridge

Beez Neez now Chy Whella
Big Bear and Pepe Millard
Sun 2 Nov 2014 23:37
Sydney Harbour Bridge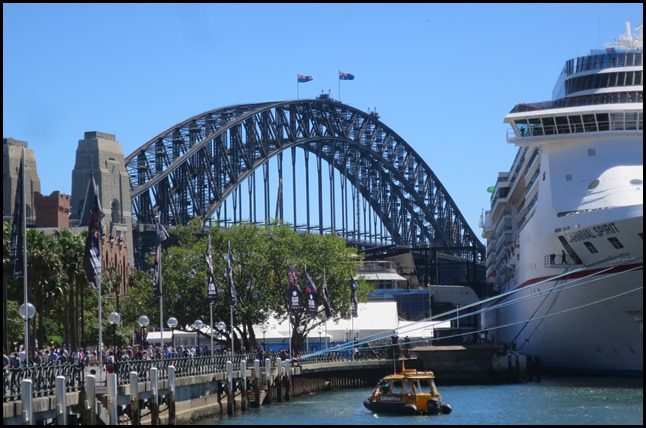 Sydney Harbour Bridge.
Rather like the Opera House we were very excited to see the bridge. Bimbling along, we rounded a corner by the ferry terminal and there it was. We will, with 'safe seas and a following wind' fulfill a wish and sail under the bridge late next year in time for the New Year fireworks display.
We bimbled just a little way and got a slightly different angle with people below.
Much will appear on the blog but for now a really potted version.
Sydney Harbour Bridge carries eight roads, two rail tracks and one cycleway. The bridge crosses Port Jackson – Sydney Harbour, and is a Through Arch Bridge. The total length is three thousand seven hundred and seventy feet. The width is one hundred and sixty one feet. The longest span is sixteen hundred and fifty feet. The clearance below is one hundred and sixty one feet at the mid span, plenty of space for Beez Neez to go under without us having to shrug, cringe and breathe in.
A gentleman called Rodney Haywood took this stunning picture of the bridge whilst on a tourist helicopter flight.
Norman Selfe proposal for the bridge, circa 1903. Sketches of designs submitted when tenders were called for a harbour crossing in 1900. Hell Gate Bridge in New York, the inspiration for the Sydney Harbour Bridge.
Under the directions of Queenslander Dr J.J.C. Bradfield of the NSW Department of Public Works, the bridge was designed and built by British firm Dorman Long and Co Ltd of Middlesbrough. The bridge's design was influenced by the Hell Gate Bridge in New York City. It is the sixth longest spanning-arch bridge in the world, and it is the tallest steel arch bridge, measuring four hundred and forty feet from top to water level. It was the world's widest long-span bridge, until construction of the new Port Mann Bridge in Vancouver. Construction began on the 28th of July 1923, finished on the 19th of January 1932 and opened two months later, finally paying for itself in 1988.
The bridge may rise and fall seven inches as the steel expands and contracts in the weather. The total cost of construction was double the original quote. Approximately eighty thousand litres of paint are required for each coat of the bridge. It was painted grey because no other colour was available in such large quantities.
On our ferry trip across to Watsons Bay we caught our first glimpse from the water but so look forward to our first picture taken from Beez.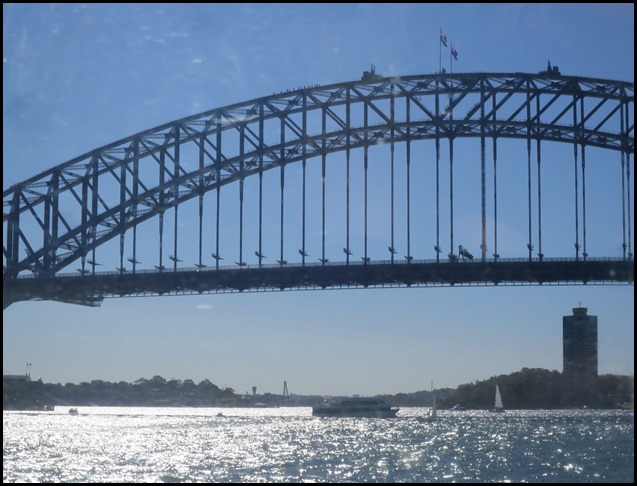 On our return journey, this picture was taken through the window of the ferry - ditto the one below, but on this one you can clearly see a group of tourists walking over the top. Definitely on our bucket list. Oh dear swallowing hard.
ALL IN ALL A REAL MUST TO SAIL UNDER WITH BEEZ
CAN'T WAIT
---