Namrole Market

Beez Neez
Skipper and First Mate Millard (Big Bear and Pepe)
Wed 3 Aug 2016 22:47
Namrole Market
We arrive at the market about a mile from base. The rubbish in the stream was very depressing.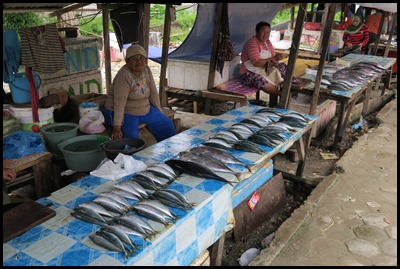 The fish stalls. One lady waggled a particularly stiff tuna and through our guides it was polite to laugh when she said "flies are free". Moving on.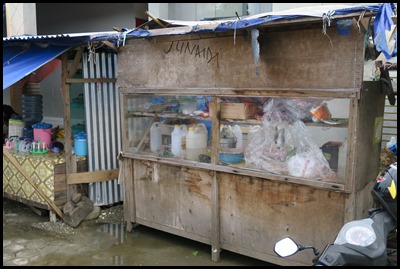 Not sure what this stall sold but it didn't smell very nice. The fresh fruit and veg hall was by and large in very good condition. Bear bought me a rugby ball sized watermelon (later seen to be bright yellow fleshed, very sweet and juicy) for one pound twenty five and a half a kilo of green tomatoes for forty pence. A baby was dangling from a home made bouncing cot comprising a metal spring, coat hanger and tatty mesh, bouncing perilously close to a parked toy truck.
On we went. Blame it on his bandaged head......Don't ask I didn't.
The Chinese plastic tut shop.
Outside the ablution block (we knew that as a partly clad man came rushing out, toothbrush in hand, late to the call to prayer) a Winnie the Pooh umbrella waited patiently. More plastic in every colour and on we went taking care where each foot fall occurred. At the end of the next block was ladies fashions. I took a shine to a number in silver and purple thinking it just right for when we meet the president in October, no - the stallholder was at prayer in the Mosque opposite. No one around could help... Sad to miss a bargain, well if my cotton frock was two pounds.........
Chicken or the egg ??? The small child had bells on her ankle so mum knew where she was.
The waterproof watches were on permanent test laying in a dish of water.
The final lane..........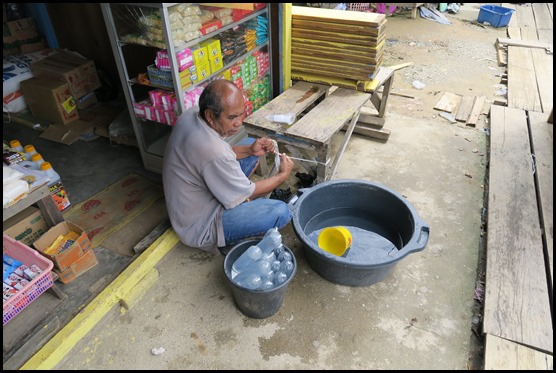 ......... and at the end an elderly man filling plastic bags to produce sausage shaped ice blocks. He was cunningly using a piece of raffia to make a tiny knot at the top of the bag, wasting very little of the useable space. Looking at his hands and the gribblies floating on the water just very pleased to say we are currently not asking for ice cubes......
On our way back to base we saw a winged stick insect on the road. Amazing how quickly he could fold his flight equipment away.
Bear wasn't quick enough to pick him up for the perspective shot but Siti, our guide was like a racing snake having no idea what a blog reader was.
ALL IN ALL INTERESTING, WITH AN INABILITY TO DEAL WITH RUBBISH
VERY TYPICAL THIRD WORLD MARKET
---