To Snode Creek

Beez Neez now Chy Whella
Big Bear and Pepe Millard
Fri 17 Jun 2011 22:34
Beaufort Docks to Snode Creek
We gave Bear's knee an extra day of rest, no change after eight days, still agony to bend his knee, still swollen, calf burning. We took the decision that I would do the next four or five days to Norfolk, Virginia, he would rest his leg settled in the cockpit and review things again after new route avoiding Dismal Swamp, this will give us two nights in Norfolk resting. Anthony and our next door neighbour did the ropes for us and we backed out of our slip at eight forty five. It felt so good to be on the move after our enforced stay of six days. Our first bridge - Beaufort Bridge - was half hourly, through at nine o'clock, soon underway I promptly did a quick sailing on the spot. Thank heavens for this soft mud stuff, a bit of backing up and bow thrusting and off again.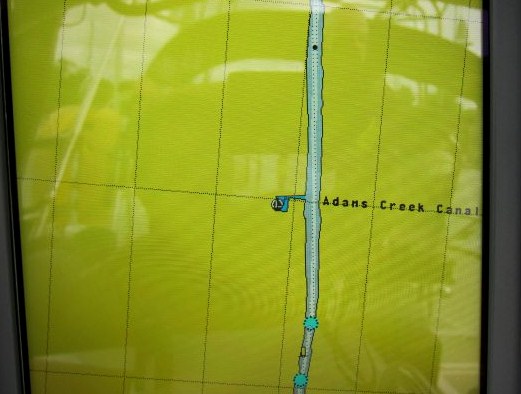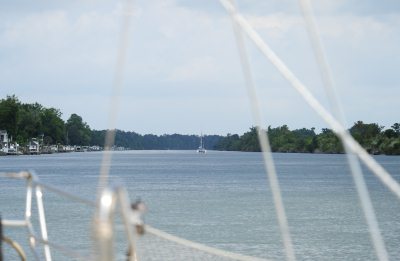 Adams Creek Canal on chart plotter looks fairly yellow, the real thing was quite pretty.
I loved the name of this boat and its logo along the way
Not certain about the Berger house, complete with seahorse and jaunty bird home.
The weather said rain and possible thunder and lightening, shed hood at the ready. All seemed normal for a while, a quick wave to a local fisherman
A bit of concentration as a big girl had to pass fairly close, soon back to chugging her way. Bear says my hat makes me look like someone off 'Allo 'Allo.
The Neuse River saw our first thunder and lightening, cleared after half an hour before we entered the Pamlico Sound.
Pamlico Sound, is the largest lagoon along the US East Coast, some eighty miles long and fifteen to thirty miles wide. It is a body of water separated from the Atlantic Ocean by the Outer Banks, a row of low, sandy barrier islands, including Cape Hatteras. The Neuse and Pamlico rivers (the latter is the estuary of the Tar River) flow in from the west. Pamlico Sound is linked on the north with Albemarle Sound through Roanoke Sound and Croatan Sound (passages). Core Sound is the narrow southern end. Pamlico Sound is part of a large, interconnected network of lagoon estuaries. As a whole it is the second largest estuary in the United States; (Chesapeake Bay is the largest). Seven sounds making up the whole: Albemarle Sound, Currituck Sound, Croatan Sound, Pamlico Sound, Bogue Sound, Core Sound, and Roanoke Sound.
I had looked forward to this leg as the water had a depth of three and a half metres below us; meaning I could relax from having to stare at the depth gauge for a while. Explorer Giovanni da Verrazzano mistook the sound for the Pacific Ocean. Plonker.
The sound and its ocean inlets are noted for wide expanses of shallow water and occasional shoaling, making the area hazardous for larger vessels. In addition, the shallow waters are susceptible to wind and barometric pressure-driven tidal fluctuations. This effect is amplified on the tributary rivers, where water levels can change by as much as two feet in three hours when winds are aligned with the rivers' axes and are blowing strongly. I felt lucky at this point that all was calm with little wind to worry about.
All went well for a while
The clouds gathered, we listened to the weather station on the radio - thunder and lightening due
Visibility down to about a hundred feet and the storm passed right over us. Gusts of wind to twenty five knots but luckily the rain was so hard it 'ironed' the surface of the water.
With the shed over and sides in, limited visibility due to the now horrendous rain, things were interesting for about an hour
Within a few minutes of the storm passing the sky cleared and all returned to normal, thank goodness we were in open water and not in a skinny shallow bit of the ICW
At a quarter to five, after forty four miles Bear managed the anchor, just off the main channel at Snode Creek
ALL IN ALL GOOD TO BE ON THE MOVE
---