Takatuka

Beez Neez now Chy Whella
Big Bear and Pepe Millard
Tue 22 May 2012 22:17
Takatuka
Above left is Beez Neez, above right is Takatuka. We were delighted to see this Warrior just a few boats ahead of us. These girls are rare. We saw two in Guernsey, one in Portugal and the same one in Morocco. Takatuka is a grand lady built in 1986 one of the earlier hull numbers.
For a fleeting minute the last ever hull that came off production before Trident Marine dissolved sailed in, Nanshee registered in Glasgow. We chatted to the owner but he left the next day so sadly we didn't get a picture. The owner is building her as he goes along. Her story was quite something. The owner had paid a big chunk of the engine, the next he knew was a man standing with a chainsaw threatening if he didn't get the engine money he would forcibly remove it. The owner paid the same chunk again and the final payment to preserve his new home.
Hickmett (Turkish, sailing from London). Merhaba and Yasemin (Swedish from Stockholm originally) Tjenare.....................
...............and Misha. Now Misha is never going to win the Crufts Obedience Championship but he is very cuddly. He barks for attention and as soon as you stop he barks for more, or in the case of Big bear he gets a bark for not stroking to a high enough standard.
We laughed our heads off when we saw this little gem. Just like Yasemin, we were sold one of these hand washing machines at a boat show, as the most useful 'thing' you could ever wish for on a boat. I used my once and thought it was as convenient as having a cement mixer on board. By the time you get it filled, wang the handle round and round, get water everywhere when you empty it, and the rinse takes a full tank of water. Mine went hastily – exit stage left. Yasemin put hers on the ground and the first chap who came past, she sold the idea like a pro. Off he went smiling with his gift - for his wife. Sad we won't be around to find out how she gets on with it or where she shoves it.........
Now every boat we ever visit provides brilliant new ideas or ways of doing something that we soon employ. Takatuka is no exception. As we boarded the first idea was a great one. Hickmett has put a bar across the pram hood so you can pull yourself safely in to the cockpit, or steady yourself as you head forward.
The next idea was at the back. Bear built me my Pepe's perch (a soft seat on the top of a wash board that I can sit on in the door way. The perch Hickmett has produced folds down from the rear frame, a cushion is clipped on and the horseshoe becomes a back support. Brilliant. Next was the neat stowage for the wash boards. Ours just have a nice sleep on the office bed but this is safe and tidy.
I loved the curtain rod idea. I had tried with net wires but the lengths involved meant the curtains didn't hang right, these are fixed to neat steel rods. A special mention for the two lamps, one seen here. Hickmett found a receipt when he bought the boat, each cost $150 to fit.......
Oh you should have seen Bear's fingers twitch at this one. Under the seat (above the water tank where bear sits and we keep our map library). Hickmett has fashioned a tool box. Everything is embedded in foam, now that is a five star award.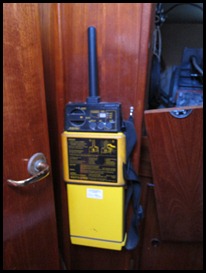 Everyone has treasures. An elderly EPIRB, that came with the boat, it has been checked, serviced and works beautifully. A fitted generator where our holding tank is. On the wall was a small, intriguing wooden box, in it a hand held compass, complete with light. Wow.
Back outside and our plain granny bars on here have fender holders. Our cans are tied to a plank, these have neat, stainless steel holders.
The biggest surprise has got to go to Yasemin's kiln, did I just type KILN. "Oh it reaches one thousand degrees" said Hickmett brightly. A thousand degrees in the bedroom, I cannot explain how high my eyebrows shot up at this juncture. Yasemin is a jewelry designer and works in silver to produce bespoke and beautiful items. Still, it may take me a while to get over this one.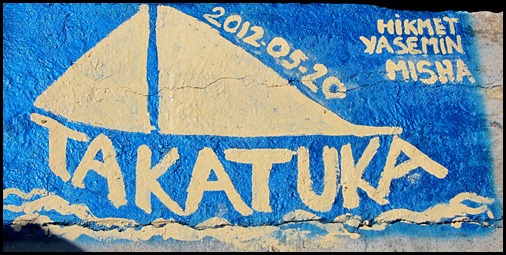 Yasemin followed tradition and did an 'art work' on the pontoon. Sadly we have no paint so none from Beez Neez.
Misha is not spoilt, no not one bit..........
He soon followed in Trooper's footsteps, bounding aboard and asking for his biscuit at the door, eyes on me in the kitchen. He also loves ice, and I introduced him to honeydew melon.
Takatuka left Hemingway the day before us but we anchored next to them in Mujures Bay, Mexico before we both moved in to the marina. We will also see them in Guatemala, we hope to swim with Misha.
Safe Winds and Following Seas to the three of you.
ALL IN ALL SO WONDERFUL TO SEE ANOTHER WARRIOR
---