Busy & Positive

Beez Neez
Skipper and First Mate Millard (Big Bear and Pepe)
Sun 10 May 2015 22:57
A Busy Start with a Nasty Shock Midway But a Positive End to the Week
Monday. The week began with a trip to Whangarei with Maj of Scott-Free. Armed with a shopping list that when combined with my royal driver, took in many different shops. Off by nine, town just after ten, first job ticked – a new sign ordered for the back of Beez to be ready by three, coffee with half a cake each and Maj off to her appointment at ten to twelve. I bimbled into the town centre in search of a knitting pattern having got the fancy after many years, probably after laying eyes on my bundle of needles during that particular cupboard clean. I was almost run over by a lady galloping out of a blind alley on her disability charger. She did say sorry but I recoiled when I saw the very same cart parked outside a shop, said person trotting around inside...... Then I bimbled past possibly the worst busker I have ever heard only to be disappointed in the knitting pattern shop. I walked by Dick Smith and thought new hard drive and the positive waves of starting a whole new ITunes library. My old one was a no-go so no point worrying about it.
At one o'clock us shoppers converged once more at Arthur's Emporium, what an Aladdin's cave of goodies. I came out with three new glue brushes that trimmed down become the perfect varnishing tools ever – not that I'm going to do that particular task again as you all well know, but no harm to be equipped. Two different sized plungers, the bigger will find a useful job as agitator when I hand wash at sea. The smaller, well, just in case. A trip to the Warehouse, random wool bought for boots, scarves or hats and then off to the supermarket after collecting Beez new sign sporting her official reg number and tonnage.
Bear had had a mixed day. The de-pickling of the water maker went extremely well but as he was happily producing Adam's Ale he was filling the carpet below one of the tanks. Mush to his dismay, the good skipper had found that the chap who fitted the sensor had only hand tightened the screws of the plate shaped cover. Sixteen of the dear little things had to come off, be checked and refitted. I was told that it was just as well I was out as the language aboard was very x-rated. Needless to say the long list he had written himself ended up being frustratingly lacking in ticks. Growl. That night sitting up in bed I began the task of my new library. Books from their own hard drive were added and by sleep time I had loaded the first 104 gigabytes. Very satisfying indeed.
Tuesday. I leapt up at six, still very dark, and began the task of tipping everything out of a basket in the cupboard to the right of the en suite. Bear cracked an eye open and swiftly covered himself with the quilt. By seven all the new pots, bought yesterday, were labelled and ready for use. If the week continues in this vein we will indeed be ready for the off.
Maj rang, saying she would take me to Kerikeri for the knitting pattern that I rather liked and by ten to ten Bear was in the captains seat aboard Baby Beez passing this rather grand old lady. She is visiting whilst stocking up to take supplies to Vanuatu.
In black and white, the young crew can be seen hand winching the anchor. Under power she sounds like someone beating a hammer in a large oil drum.
Approaching the back of Scott-Free we witnessed the teamwork necessary to launch their unnamed dinghy, resplendent in smart livery.
At the wool shop I vacillated to the point where Maj lost the will to live, but managed a bit of a smile when prompted.
Every lady who came into the shop was entered into the voting and we eventually emerged – me carrying the bright blue that had been my first choice. Funnily enough, the blue just happens to be identical to the colour of my Croc flip-flops, jandles in these parts and thongs if you come from across the Atlantic. There has been much talk mongst the fleet as to why I want to knit myself a coat when I am heading back to the Tropics ????............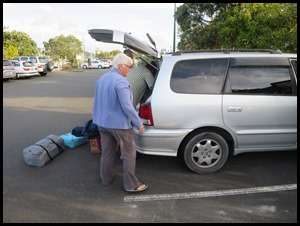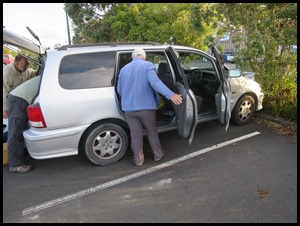 Tuesday afternoon Steve suggested the Stealthy Six should go to Paihia for the 'Two for One' ribs and chips special – our final trip in Stan. Steve and Bear are off to Auckland on the morrow, the former to drop their water maker off in Albany to fix a leak that happened in the post last time it went for a holiday and Bear to pick up Simon. Stan would be met by his new owners, old friends of Scott-Free who have promised to love and take care of him. To nestle the Stealthy Six we watched more teamwork, supervised by Rod to get seats erected and stuff stowed. We were soon settled and on our way.
A new one on us was seeing a fire in the middle of a bar table. Mmm.
The Stealthy Six.
Bimbling back to Stan we passed a grockle shop and I simply had to take a picture of a natty little box – for obvious reasons – although they spelt it wrong........... Further over on the shelf I fell for a little trinket box, sadly, on Beez Neez we would need the biggest TEU measuring container known to man. Huh. Don't you Huh me.
I was just admiring this very happy bench when a certain Maj leapt into the picture.
Wednesday. Bear jumped up with the sparrows and set off in Baby Beez. He left the phone with me as he knew his trusty sidekick would carry his. For some reason I couldn't settle to chores. The new box I had bought for cupboard on the left in the en suite was a fraction too big. Lots of swapping containers and much dropping of everything I touched. Nothing for it but a hug in a mug in the shape of a Horlicks. I thought writing a blog would keep me busy but something was irritating the left side of my chest, at one point I let out a half-hearted squeak. On investigation I found a blister, Bear later thought it might be the result of a bite – insect kind before you all go jumping to the wrong conclusion. The unique part about this is its position. In the picture my little finger marks the lower edge – for purposes of dignity – on the bit of my left breasticle that rhymes with tipple. So the said blister is just below and technically out of sight on the swingy bit......... I kept it as was until Bear looked at it, then promptly deflated it after a swift movement with the kitchen scissors.
Bear got home at half eight, as he cocked his legs up into the conservatory his first words were – Bad news about Simon, the shop was boarded up. No wonder I had not settled to anything. He hadn't wanted to ring me with the bad news as he didn't want to spoil my day, just spoil a good nights sleep why don't you. Simon as you all know is our Sigmonster 300-800 mm lens that Bear persuaded me to buy for use in the Galapagos – never came out of his stable as the wildlife there was neither wild nor shy of standing on your feet, I spent more time backing away as not to just take pictures of armpits and eyeballs, hence why he has been for sale in a shop in the city for the last fourteen months.......... Anyhoo, Bear and Steve had the good idea of going to the camera shop next-door-but-one and making enquiries. Apparently the Liquidators had made their move just two weeks ago. The boys left the shop with Ken's number and email address, he was the chap in charge of the whole business and I was to email with all Simon's details.
Thursday. Bear took the yellow cover off the girl and took profile pictures required to be attached to the pre-log in forms to be emailed to Fiji. I mooched about not really achieving much and every time I thought about writing an email to Ken I felt quite sick. At one point I actually sat with my head in my hands – last week external hard drive crash, this week Simon. Needless to say I would only require four minutes in a room with the man-who-said-he-would-look-after-Simon-and-me. Put it this way he would never be able to hold anything in his mitts ever again. My dad always used to say "if the pendulum of life is swinging against you there's f - - - all you can do about it", sage words indeed. In the evening Paul and Kate from Iolea came over for supper, I really struggled to be any sort of hostess at all. Even the weather came out in sympathy blowing a Hooley to gusts of forty knots. My it gets cold at night, definitely time to head north toward the equator.
Friday. I finally settled at eleven to write my missive about Simon. By a quarter to twelve the lovely man himself was on the phone telling me we cold collect Simon who was grazing peacefully beside him and ready for his owners to come a collect him. Tuesday was the agreed day. Oh dear reader, the relief, it was palpable aboard and once more I could settle to a few chores.
Saturday came and went with the skipper producing a modest egg event for himself. Eggs on Saturday not Sunday I hear you cry, ah well, Bear knew I needed a bit of wreckless cheer and we have visitors coming to stay on the morrow.
Sunday. After a leisurely start and a run over to the laundry and shower, the Stealthy Six met up with Rod and Brenda at five o'clock in the Yacht Club. Lots of good laughs, Brenda in particular was on wonderful form. The club had a jam session and there was a great atmosphere that has been missing for some time. Rod and Mary bade their farewells and much later the rest of us went back to Beez for night caps. By the time Maj and Steve left you couldn't see their dinghy from the back of the girl. They set off and thankfully a Naval vessel was lit up like Christmas tree which aided safe passage home. So pleased they texted to report in.
Weather windows are the hot topic all over Bay Beez and much individual study over many different websites may see such a window open next Saturday through to Tuesday. Beez Neez for one is nearly ready for the off.
ALL IN ALL JUST A COUPLE MORE BLOGS FROM NZ
YEEHA
---