Ups and Downs

Beez Neez now Chy Whella
Big Bear and Pepe Millard
Sun 14 Dec 2014 23:57
The Ups and Downs of Our First Week Bib-Bobbling
The predicted storm came in all night with constant hard rain and fairly big winds. Sleeping with the front ropes making more notes of creaking and stretching than we thought possible with a certain man snoring in the very few lulls....... Oh I forgot to take the bung out. Oh. The new rule is that we dangle Baby Beez from the side of Beez so she doesn't get sludgy and grimy from staying in the water all the time. Out went Bear this morning and found Betty having a joyous paddle. Looks like Baby Beez needs a drop of paint methinks. Nothing for it but for Bear to unbung, bring Betty in and put the boiled eggs on.
Bear had chosen himself a four-egg-immerse-device on our trip to Whangarei last week. Clearly it hasn't prevented an egg event, actually, I think the result is quite spectacular.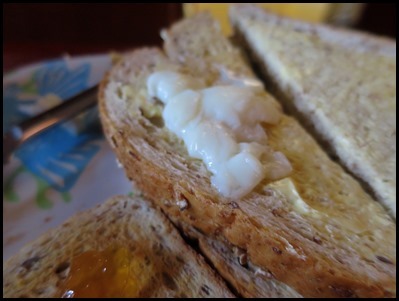 I did like being able to lift all four at once and leave the remaining four carry on to hard boiled status. I think I'll give it nine out of ten but this was only my first use so time will tell. Mmmm. Well there was less egg event on the egg and more on the piece of toast so my point of view I'm not so impressed.
Mary kindly emailed this picture to me this morning of our BBQ from last week. Beez Neez, Sheer Tenacity and Scott-Free. Aka us, Rod, Steve and Chris, pity we didn't see anyone at the time to get Mary in the picture as well.
Love this one of Steve and Chris.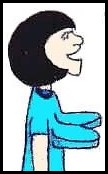 I jump back. On the train from Dubbo to Sydney I found a lump. Back in New Zealand, Brenda – State of Mind, kindly gave me contact details to organise a mammogram. It turned out that I had to be referred by a GP so we borrowed Mrs Puki to go to Paihia. I have since been told by Mary that the good local lady from whence the car came should be spelt Mrs Paki, but I cannot possible go back and find all the references to her so Mrs Puki she must stay. Sorry Mrs Paki. Take a breath. Bear drove me to see Sven a lovely giant from Iceland who was fairly certain he was not feeling a cyst. Oh Dear. We took the decision not to worry the family yet........ so when you read this please don't be cross, seeing all the Christmas trees going up we felt it so wrong to tell you and spoil the fun - now we know it would have been for nothing.
We booked last Friday to go to see Pat the mammo ironing agent en route to the 'meet and greet' and overnight with Rod and Brenda. Keeping up I hope. The radiologist wanted me back for an ultrasound. Another week of concern came to nought as Jane the paddle bearer very quickly put us right, cysts, more than one and hard, because me being me, they had to be a little different, mine have little leather bomber jackets on. Anyway armed with good news we descended on Scott-Free to celebrate. They drove us out toward Whangarei Heads and we ate supper in a really nice pub. Rod phoned to wish us a celebratory evening. Several sherbets when we got back and an overnight stay.
The plan was to get up on Saturday and take us to a quarry nearby that has been converted into a lovely garden. No camera. No problem. Steve got his Nikon SLR out forthwith and put the battery on charge. What friends we have. Next was to email Frank to take me off the Californian prayer list, there are now many more who need this service more then me now, I am relieved to say. How blessed I am to have that power behind me.
Sadly, the rain came in during the early hours and continued all day. Nothing for it than to sit around and chat. Minutes later it was late afternoon and off we set. Thank you C+S of S-F, and I got to sleep with Chocolate Moose and Beds was giggling his head off, needless to say my good friend snored with multiple crescendos – life is as normal.
Meanwhile, so Baby Beez didn't have to be tied up overnight on the dinghy dock all alone, Rod ferried us in and took our trusty steed home to sleep behind Sheer Tenacity. She not only slept well she had a visitor. Thank you Mary for the evidentiary pictures.........
On our return, Rod came to pick us up. Both Rod and Mary were so pleased to hear about our news, what more do we need. We belong to this tight knit group of like-minded cruisers who are there for each other. What more do we need. A massive thank you seems so inadequate.
Back to last night and all seems back to normal.
ALL IN ALL I POLITELY REQUEST CALM WATERS FOR A WEEK OR SO
A WEEK OF MANY CHANGES
---