A Final Ride for Bobby

Beez Neez now Chy Whella
Big Bear and Pepe Millard
Thu 11 Jul 2019 23:47
A Final Ride for Bobby
Bobby (named by Bear) first came into our lives on the 12th of June – two days out from Chagos. The first day he swooped around us and slept for part of the night on the front rail. The second day he must have gone fishing but settled in the evening on the solar panel. He has been to see us each and every day, how do we know it's him, he has three fine lines at the top of his beak on his right side. Still don't know what he stares at in the bottom of Baby Beez but sitting on the outboard is his very favourite place.
Right on cue he flew in to pose on the outboard the last time Yolanda (BIOT Officer) visited. We all knew the second he took umbrage to a number of noddies coming too close to Beez and with a bark, off he went to restore order. He seemed to know this was our last day here as he spent most of it with us.
He stood for an hour or so on the outboard and then wanted to show off his fishing technique. Not the neatest on the wing, another identifying factor. He swam for a while and went about his business whilst we did chores.
He seems to know that we always go out after lunch and there he was. Bear and Bobby always chat and then there is the outboard lowering business. The friends merely look at one another and as one lowers the other does a couple of wing flaps as he hops up to the top.
Engine up and engine down.
How many times I have seen the chatter over the last four weeks.
Of course there have been words about the poop. White, runny and smells awfully of fish. But they soon make up.
Today there was a lurve thang as Bobby very gently pecked all around Bear's peak.
Then he came for another ride.
There he stayed until we neared the beach when he flew to the tree he perches to keep watch over us.
The picture I will always remember. When we first met Bobby he still had a few fluffy bits at the top of his trousers but now..........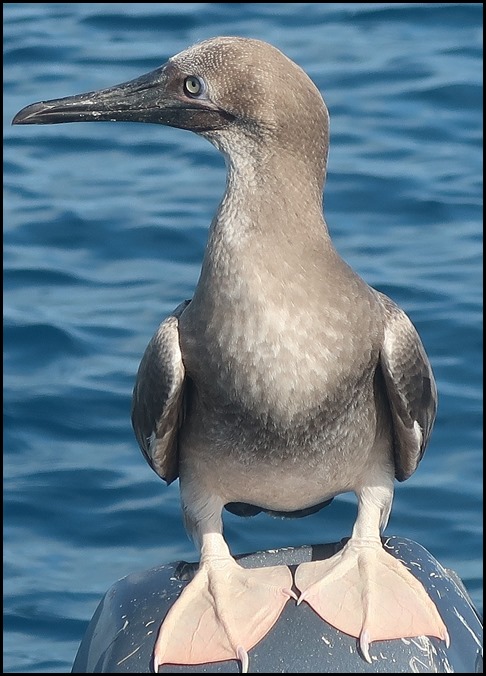 .............a very sleek young man.
ALL IN ALL WE WILL REALLY MISS OUR LITTLE FRIEND AND GUARDIAN
SUCH A GREAT CHARACTER
---