Hokitika Gorge

Beez Neez now Chy Whella
Big Bear and Pepe Millard
Mon 1 Sep 2014 22:47
Hokitika Gorge and Incident Memorial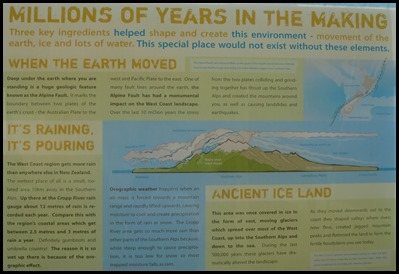 We left Hokitika and drove past many farms on very flat, very green land. Several little bridges later we left the tarmac, rose through a skinny gravel bit and parked Mabel at the top of a rise. Here our information boards were very posh 'glass' or something similar. The usual well maintained track was soon being bimbled.
On our first corner Bear fell for a tree. He stood admiring for some time. I've never seen a tree so clothed in so many different bromeliads. I looked up enthusiastically. Best call it Bear's Tree then............
On the next corner we could just see the swing bridge, to our right the Hokitika River.
We moved closer to the bridge. A particularly fine piece of wood work around a particularly steep set of rocks, I think you should take a picture of it. Yes dear, perhaps I should call it Bear's Bridge. What did you say. Nothing dear.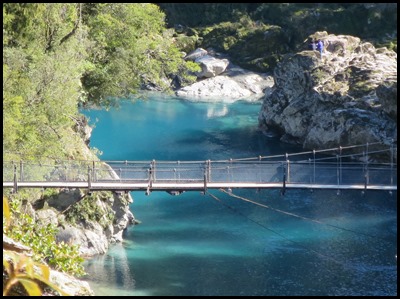 The water looking left and right was almost an unreal shade of blue.
Across the bridge and down to the river.
Back across the bridge we looked at many spiders webs.
Bear is saying Oops. This massive tree fell just inches from a wooden bridge – seen on the left, on our return bimble. Back on Mabel, our next stop was to see Dorothy Falls and Lake Kaniere. The route took us on a slightly different route. What seemed to be in the middle of nowhere was a large memorial. A must-stop to take a look.
The Koiterangi Incident Memorial
The plaque away to the right was who unveiled, sponsors and the name of the area, the plaque on the left has the most writing on of any memorial we have ever seen. I have typed it out just as is:
In the afternoon of Wednesday 8 October 1941 the quiet surroundings at this location were interrupted by the unstable rampage of local farmer E.S. Graham who unleashed a fury which would permanently etch him in the annuls of crime as the first mass murderer in New Zealand criminal history and subsequently the quarry in the country's largest and most terrifying manhunt.
Graham's hitherto temperamental behaviour began to take an extreme swing from 2 October 1941 with a series of armed and violent threats towards a number of people in the district. These incidents were now being officially reported to local Constable Ted Best who harboured doubts about Graham's stability.
The incident, backgrounded by Graham's non compliance in surrendering a firearm for WWII requirements, financial stress, armed threats and paranoia, saw his growing erratic behaviour erupt into an irrational conniption on the morning of 8 October when he and his wife challenged a passing neighbour at about 10.00am. Having been menaced by Graham with a firearm the neighbour summoned Constable Best who learned another neighbour had been similarly threatened by the couple earlier that morning. Constable Best confronted an armed, excitable and abusive Graham but was unable to disarm him after lengthy reasoning and retreated to advise Sergeant Cooper at Hokitika of his dangerous decline.
With the Koiterangi School across the road from Graham's farm, Sergeant Cooper, new to this district the previous Tuesday, planned his strategy to confront Graham after school finished at 3.30pm. He left Hokitika with Constable Best, Tulloch and Jordon in the early afternoon and arrived at Koiterangi to set down constables Tulloch and Jordan. He continued to Graham's farm with Constable Best. After initial discussions with Graham, who appeared rational, the sergeant chose to make an enquiry with a neighbour, seemingly to placate Graham who was making unsubstantiated allegations. The two policemen returned to Graham's at about 3.40pm where they met Tulloch and Jordan in the road. Sergeant Cooper with Constable Best then spoke to unarmed Graham at the verandah of his house. Graham discussed the result of the sergeant's enquiry in a tense conversation and the sergeant indicated his intentions to seize Graham's firearms. Rejecting the notion, Graham retreated further into the house, rounding on the sergeant in anger. After fruitless appeals Graham backed into his kitchen/living room area where he picked up a rifle and pointed it at the sergeant, ordering him to leave his property. Sergeant Cooper requested the immediate surrender of Graham's firearms and attempted to disarm him, calling his men to assist. The truculent Graham then shot and wounded Sergeant Cooper in a callous, half hour of madness and extortion, Graham massacred the defenceless policemen Tulloch, Jordon and Cooper and mortally wounded Constable Best and Mr George Ridley who of his own volition with Mr Thomas Hornsby had courageously gone to the assistance of the Police.
Carrying four firearms and a haversack containing approximately 700 rounds of ammunition, Graham left his wife, daughter and son and headed to the bush and darkness to set in train a massive manhunt, which lasted twelve days.
A contingent of Hokitika-Kaniere-Koiterangi Home Guard and Police took up positions in the district. The following evening three Home Guardsmen were posted inside the Graham residence and at 7.50pm Graham returned to the scene of his crime. Appearing near the front door of his home he was verbally challenged, identified himself and fired a shot down the passageway mortally wounding Home Guardsman Greg Hutchinson who had no cover and no chance. At the hall across the road, Home Guardsman Coulson expressed concern at the fate of those in Graham's house and with Guardsman Amuri King bravely elected to move from their position to investigate. Knowing Graham was about the house their every move was fraught with danger. Graham shot Max Coulson at the verandah step as he made for the front door, mortally wounded he struggled inside and died soon after. King made cover within the house to shoot and wound the fugitive before he slipped back into the night. Graham eluded the mass search until just after 7.00pm on 20 October 1941 when he was shot and wounded by Police near Mount Doughboy on Crowcott's farm 2.3 kilometres beyond this point. He died the following morning.
Very moving, very sad.
On our way once more.
ALL IN ALL QUITE A FIND
INTERESTING AND SAD
---