To See Smudge

Beez Neez
Skipper and First Mate Millard (Big Bear and Pepe)
Fri 21 Apr 2017 22:57
Our Visit to See Smudge at the National Memorial Arboretum
After our little train ride we went in search of the main Armed Forces Memorial.
The Armed Forces Memorial, dedicated in the presence of Her Majesty the Queen on the 12th of October 2007, is a nationally significant focus for Remembrance. It honours those members of the Armed Forces (Regular and Reserve) who were killed on duty while performing functions attributable to the special circumstances and requirements of the Armed Forces, or as a result of terrorist action, and those who died while deployed on designated operations.
The Memorial is a stunning piece of architecture comprising a 43 metre diameter stone structure with two curved walls and two straight walls containing the names of those honoured here.
Since the end of World War II the men and women of the Armed Forces, often supported by the Royal Fleet Auxiliary and the Merchant Navy, have taken part in more than 50 operations and conflicts across the world, often as part of United Nations, NATO or other international coalitions.
The Monument. We wanted to find one name amongst the thousands, found on the far right-hand wall.
Respects paid we bimbled around this huge space and then went in search of the Bastion Memorial.......
To the left the Bastion Memorial, to the right the
Armed Forces Memorial
.
Here we once again looked for Smudge (top right plaque on the right).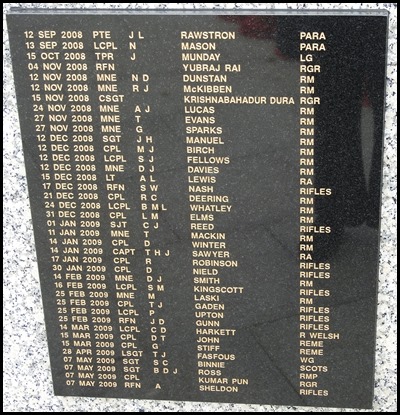 The twelve name plaques. We read all the Royal Marine names, some known to son-in-law, Mark.
The back of the Monument.
The map, the larger photograph to show Camp Bastion.
This memorial was built to mirror the original memorial erected in Camp Bastion by British service personnel and incorporates elements of the original stonework plaques and cross.
When you go home tell them of us and say, for your tomorrow we gave our today.
ALL IN ALL SO SAD BUT SO PLEASED TO BE HERE
EXTRAORDINARILY MOVING
---