Cockatoo Two

Beez Neez now Chy Whella
Big Bear and Pepe Millard
Sun 20 Dec 2015 23:59
Cockatoo Two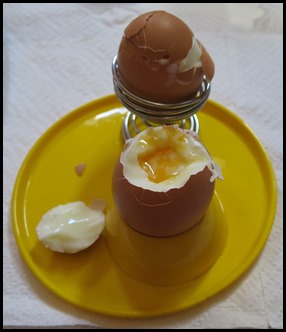 Sunday the 20th of December. One week post-op, home four days. Well what could I say as I sat up this morning and the skipper offered me boiled eggs. Out of bed in a flash, washed, settled at the table and presented with these beauties, accompanied by a thin slice of Marmite on toast. It really doesn't get much better than perfection. Sadly, no egg events but I can't say I mind. Another irritation was getting back from four one down to level then ahead in the last game until coming off 'you-know-who had the chance to get me on the bar and it was all over. Cheese and tomato sandwich for lunch and an afternoon snooze followed by watching some of our Australian wildlife films. I managed to warm sweet and sour chicken on the cooker and microwave two bags of Uncle Ben auto rice. The first time I have 'cooked' for Bear in what feels like a long time. For the first time we ate together in the cockpit and as it was a nice, breezy evening we stayed out to play Mexican Train dominoes – I won easily. Don't upset me. Well, you shouldn't have been so awful over the backgammon, taking it on a double six.......... Dusk happened half way through the game and we stopped as our new friends began swooping in, their shouts so much louder outside.
First to arrive landed next door but soon toppled upside-down.
'Ang on a minute, the bloods rushing to me head. Ooo.
"I'll try the next bit over, but it's really skiddy".
"Use the wings" we hear a helpful suggestion. "OK."
Beez Neez got her own visitor............
.........who was incredibly cross at being spoken to. Just look at jaunty angle of our fixed windex indicator. It's bent.
"Quiet down there, it's very difficult to balance on your silly little arrow." Well, please go somewhere else then......... "No", and with that a haughty pose followed by a forward lean and poop. 'Splat', we heard on deck.
Meanwhile, next doors mate flew in and landed on the moving arrow. The original slashed at something white from the top of the mast, checked it out by clasping it in one foot – not edible so we watched as it fluttered south.
We were in fits watching the one on the left slowly spin around. The one on the right sought something new to chew. Clearly, buying a set of bird prongs is simply a waste of money........
Back to the windex.
The one on the left still turning but original getting tired now.
"Time for bed" said one on left. "OK" and off they went shouting.
ALL IN ALL A GOOD DAY WITH MY FIRST PROPER NIGHTS SLEEP
VERY FUNNY BUT THEY ARE DESTRUCTIVE LITTLE ----'-
---