Tuk Tuk to Peace Pagoda

Beez Neez now Chy Whella
Big Bear and Pepe Millard
Wed 11 Apr 2018 22:47
Tuk Tuk to Peace Pagoda
The Lumbini Development Zone Parkland measures four kilometres by two and a half, the Maya Devi Temple (Buddha's birthplace) is set in the middle (our digs are opposite the main east gated entrance – a fifteen minute walk). It was designed by a Japanese architect called Kenzo Tange in 1978. When we walked in this morning we saw and visited the oldest temple ruins, the Maya Devi Temple and surrounds, including a couple of huge wetland areas. We then bimbled north beyond the Buddha child statue to the Eternal Flame. From here we could see the Peace Pagoda and had intended to walk but the tuk tuk men told us "five kilometres further". In hindsight, it would have been fun to go along the waterway in a very crowded and extremely noisy long tail, flat bottomed boat but always up for a challenge, we took a tuk tuk for the princely sum of a pound each.
Our trip was from the yellow star to the red arrow, but it seemed so much further......
The shock came as soon as we left the car park, we were in a massive building site with a few completed temples built by other nations Buddhist communities – Cambodia, Thailand, Myanmar, China and others so far, with more planned. They seem here and there along the route our intrepid little man took. We gritted, for the most part, on lumpy terrain, rounding burst pipes, bumping over the edges of piles of bricks as we wove our way (sometimes slower than walking pace) along the edge of the canal walkway. A process that will go on for many, many more years. No sooner than our journey began, we passed the incomplete Visitor Centre. A smooth bit mid twenty five minute pounding was a blessing but tuk tuks are not allowed to use the finished bits in case they do damage..... After our Peace Pagoda visit Bear was given a free sample of dal bhat, I declined on sniffing garlic. Our driver had waited for us (we hadn't asked him to) and he actually wanted to charge us more for the return journey. That was quashed quickly and on the equally uncomfortable ride back, he stopped as we saw a couple of rare blue bulls but they were simply too far away, that was just after seeing a new observation tower, like the rest of the site – unfinished. Grateful to get out at the other end and walk for a while, until yet another tuk-tuk offered us a lift to our digs for fifty pence. Once back Bear tried out his next job........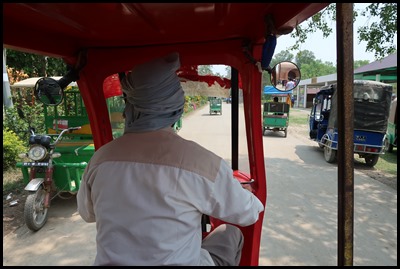 ALL IN ALL A RIOTOUS BUILDING SITE
AN EXPERIENCE IN ITSELF TO BE IN A RECHARGEABLE ELECTRIC TUK TUK
---