Koala Village

Beez Neez now Chy Whella
Big Bear and Pepe Millard
Wed 15 Jun 2016 22:57
Koala Village, Magnetic Island
We finished our Forts walk at Koala Village arriving at two fifteen, luckily there was a tour starting in fifteen minutes. Perfect. Our first new friend was a fresh water turtle, complete with birthmark and ready smile.
Then being brave with a saltwater crocodile.
Shadow the black cockatoo was very taken with Bear.
The female (left) and male tail feathers of the red-tailed black cockatoo.
Charlie was a real sweetie wanting attention and stroking.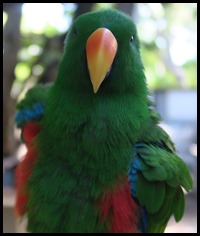 A real poser.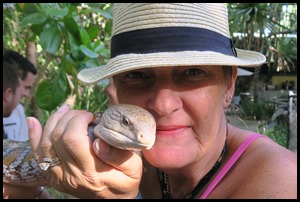 Various reptiles.
Bear was set upon by Jimmy the python and I had a fun time.
A baby bird eating spider was not for petting, fully grown she will be the size of a dinner plate.
Cute by the lorry load.
Looking at the smaller crocodile, it was a while before we noticed the bigger one.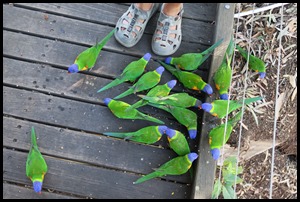 The final thing we did was line up for a handful of wet brown bread and join in the feeding frenzy, hundreds of wild rainbow lorikeets. They were everywhere.
I started with two – easy to photograph with my right hand, five was a little trickier until I had three dangling from the camera strap and eight on my hand.
Bear began with two, then a party, some on his head and then an armful. But best of all and the most wonderful experience was cuddling Belle.
ALL IN ALL WHAT A FANTASTIC TREAT
FABULOUS EXPERIENCE
---