Panga Ride

Beez Neez
Skipper and First Mate Millard (Big Bear and Pepe)
Fri 26 Apr 2013 21:57
A Panga Ride Around Punta Cormorant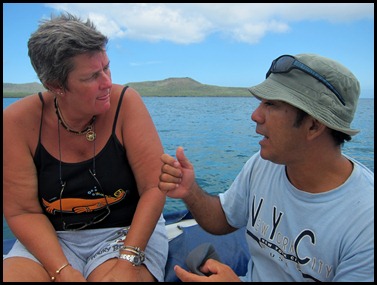 Bear and I are used to loading first into the Panga – to act as ballast and help with planeing. Chino and me in deep Spanglish conversation as we wait for the others.
No sooner than we had begun our spuddle than a big lady swam by..........
...............and another said "Hi".
A speedy chap popped up.
We spuddled along parallel Floreana.
We left the Galapagos Vision behind us.
Headed toward rocks with a guard on duty
Chino wiggled us through some rocks and we saw a beach with – surprise – the sleeping masses.
As we drew closer the man in charge leapt up and began growling and barking.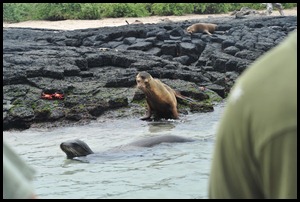 He woke some of the little ones who took to the water.
This tiny chap look terrified
We passed a barren vista and headed back.
A couple of youngsters had fun following us.
ALL IN ALL NATURE AT ITS BEST
---