Wig Moves

Beez Neez
Skipper and First Mate Millard (Big Bear and Pepe)
Thu 7 Mar 2013 23:51
Wig Moved Just A Little
This was the scene next to us, outside the shop where we go to do our internet stuff. The game on the television was Manchester United verses Real Madrid. The noise you cannot imagine. The chap nearest to me spoke quite good English and apologised every time I jumped, the fellow the other side of him was clearly a RM fan of the highest order and LOUD (the one who made me jump with his sudden shouts and skyward vaults). Actually all these intent faces leapt to their feet as soon as any player on either side got near the goal - many beers helped calm nerves. We weren't a bit sorry when it was time to go back to Beez.
We cross the road from the shops, walk back by the marina at the start of the causeway, turn into the marina car park and half way along, as has become our custom, look for wig. His tree (looking back) is by the red and white post. Looking toward the marina building, wigs tree is just on the right.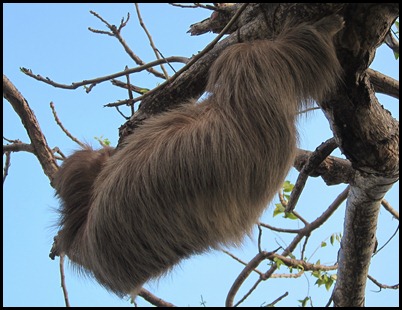 We think the football fans woke wig from the other side of the causeway.
Hang on, this is wig – although he did grace us with a stretch before going back to sleep
So this is wigs friend
Quite the acrobat – all in slow motion.
Meanwhile Wig had a little adjustment and tucked in tighter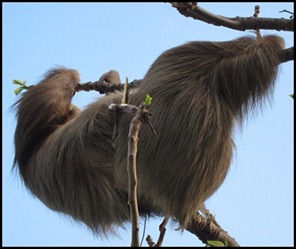 Wigs friend shows us slow agility to get to the tender leaves
We leave wig and his friend and wander back to the dinghy dock. No wonder there are the odd 'accidents' when you see how the ferry has to wiggle in to the swaying mass of tenders.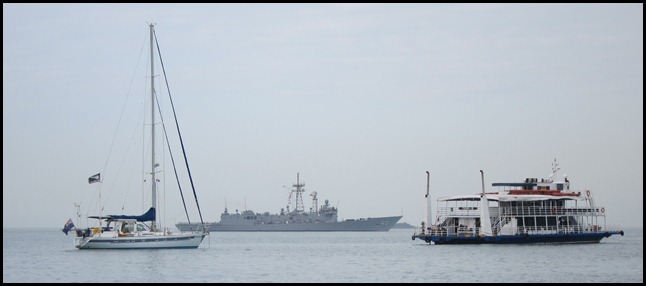 Back aboard Beez Neez we see a familiar sight, the yacht on the left is Saliander (Pete and Ray from New Zealand, we met in Providencia) safely through after their transit.
The unfamiliar sight is US Warship 43, en route to transit the other way.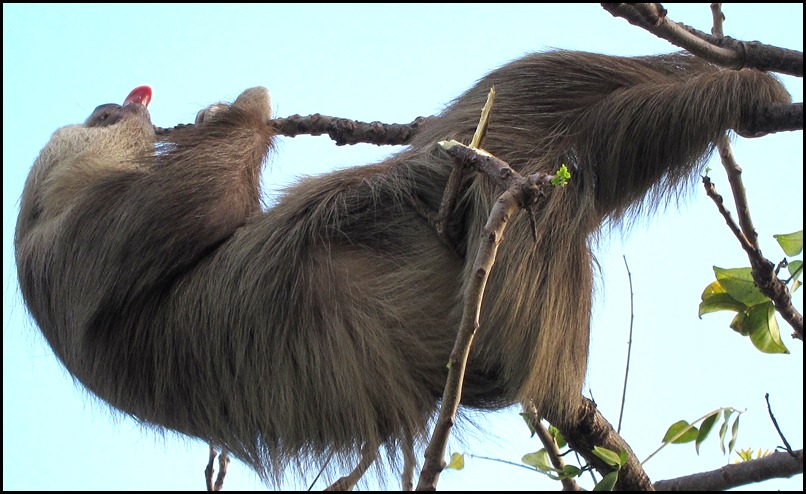 ALL IN ALL THANK YOU WIGS FRIEND
---