Beez to 30/11/18

Beez Neez now Chy Whella
Big Bear and Pepe Millard
Fri 30 Nov 2018 23:57
Beez Progress to the 30th of November 2018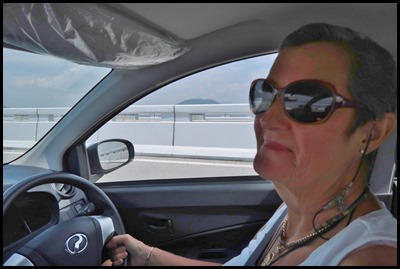 Monday 26th. Very little sleep and in poor moods after ending last week with Beez brain being declared deceased, we struggled to life. Bear went to collect the marina car and pick up Bob's life raft from Wind Witch (our next-door-neighbour under the shed). At ten to ten we set off on our road trip to Penang. I drove as Bear's right arm is still in bad shape and after the first twenty miles or so we began to have some fun.
Well, your dulcet tones describing each and every numpty driver is certainly eating up the miles.
They are, the woman currently in front brakes every time anything comes the other way and she swerves if a lorry passes, all carried out at a careful twenty miles an hour. We stopped for fuel and enjoyed a Cornetto. The first half of the journey was wiggly, the second half on motorways. The Sultan Abdul Halim Muadzam Shah Bridge or
Penang Second Bridge
on the E28 took us over ten and a half miles over the water and marked being 'nearly there yet'. The
chirpy driver
then put up with ten minutes of excellent navigation –
next left I think
and
fifty fifty choice here
, we arrived at Ocean Passage to have
our life raft
and Bob's serviced (own blog), after watching both inflations we headed for a massive Tesco Extra, but, having passed a KFC we bimbled that way first. Two thirty and we hit our major stock up list. That done, we were sitting outside in the cafe enjoying a cold water when I asked Bear to check for emails. Mark (electrickery) had located a brain supplier in Langkawi (our next stop) and Simon (insurer) said they were standing by. The level of relief got me all unnecessary as Bear wrote 'thank you' replies. Car loaded and off we went.
Bear managed to get us back to the bridge, although I did have to take a left at a split road
that popped up on me
.....thank heavens for inbuilt reaction... A
classic car
overtook, quite a sexy little business.
I'll just take a picture of Jerejak Island where we anchored on the way up. You carry on co-pilot and I'll growl a bit.
As we left the bridge we saw a massive construction site, off to the right of the picture a humungous Ikea is due to open in March.
As is the case in the Tropics, one minute it's daylight, the next dusk that lasts for about five minutes before deep darkness. More fun with with the local drivers as I drove back to our local Aeon to collect cold and frozen stuff and we headed back to Beez. Two marina lads were tidying up, saw us and helped us drive two trolleys full of stuff back to the girl. They stacked everything on our finger and left with the trucks. Such sweethearts. Bear went on board and I posted all the like stuff and fruit through the kitchen window, all the crates of tins left in the cockpit for sorting on the morrow. Midnight before we showered, bed at two.
Tuesday 27th. Later breakfast than normal. All tins labelled and stowed. Doesn't sound like much but other than lunch we kept at it all day.
Wednesday 28th. Sea berth loaded and store bins labelled.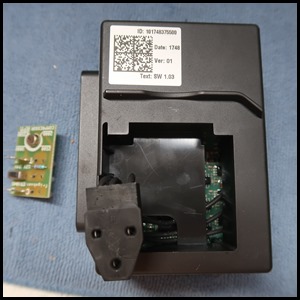 Thursday 29th. Bear did the final coat of black paint on my plank, the only thing I own on board – yes Captain.....A very tired-looking Bear cleaned his plank fittings. Four thirty Shah delivered the fridge part, within minutes it was fitted. Big fridge purred into life and the desk back was put in place, skipper looking more chirpy. I did nothing, nudda, nunca, zero, well suffice to say I kept at it all day but not a lot to show for it.
Friday 30th. I actually leapt up and did some ordinary housework, cleaned the en suite and trotted around with the hoover. Bear has a very swollen ankle (gout), brought on after I twisted it. This to go along with the poorly right shoulder.......Don't nag. Nag, I'll stick to growling.
---