Marrakech - Day One

Beez Neez
Skipper and First Mate Millard (Big Bear and Pepe)
Mon 13 Oct 2008 23:20
MARRAKECH
Monday the 13th of October we packed for 5 days, walked to the station and got on the 11:34 train from Sale to Marrakech. A first class ticket at 172 Dirhams, just over £12.00 for the four and a half hour, 321 kilometer journey. Second class would have been 113 Dirham's, the difference of £4.20 would have meant sitting on crowded, plastic seats, instead of booked armchairs, six to a compartment with air-conditioning. Two coffees and two chocolate croissants on-board trolley service cost £2.80. Views changed along the route from the built up city, through Eucalyptus trees to barren fields with cactus hedging. We saw the odd shanty town and went parallel with the motorway for some miles. Pulling in to the very modern, two year old Marrakech station ( at 16:06 as per timetable ) we paid 50 Dirham's for a Mercedes taxi to the Riad Le Plein Sud right in the heart of the Medina.
Arriving at The station, our room and the water feature in the centre of the Riad ( guesthouse ) at £36.00 per night B+B, you can get a room for as little as £8.00 if you are on a really tight budget, but shared facilities, we had an ensuite shower, toilet and copper sink.
Marrakech is the capital city of the Marrakech-Tensift-El Haouz region. The probable origin of its name is from the Amazigh (Berber) words mur (n) akush, which means "Land of God". (The root "mur" is used now in the Berber languages mostly in the feminine form "tamurt"). The same word "mur" appears in the country Mauritania, but this interpretation is still unproven to this day. Until a few decades ago, Morocco was known as Kingdom of Marrakesh by Arabs, Persians and Europeans. European names of Morocco, Marruecos, Maroc, Marokko......etc are directly derived from the Berber word Murakush. Marrakesh city has the largest traditional market ( souk ) in Morocco and also has one of the busiest squares in Africa and the world, Djemaa el Fna ( Assembly of the Dead - pronounced Jeema el Fer Na ). The square bustles with acrobats, snake-charmers, story-tellers, water sellers, henna painters, dancers and musicians by day; by night, the square turns into food stalls, becoming a huge open-air restaurant with scores of waiters waving menus to entice you to sit at their stall. Past customers include Rick Stein.
The famous Djemaa el Fna square, the fruit sellers and a chef at one of the many open-air food stalls.
Fresh cold starters, hot second course, but that arrived soon after firsts and fish and chips Moroccan style.
Supper began with "choosing from the menu", but in reality food just kept appearing, until you said "stop, no more". Olives, tomato-onion-herb salad, bread and spicy sauce. Aubergine-peppers with potato cake, Bear asked for fish, I asked for meat kebabs, 2 water and 2 coke all for 260 Dirham's and a huge amount of entertainment. Next it was off to explore. Like many North African and Middle Eastern cities, Marrakech comprises both an old fortified city (the medina) and an adjacent modern city (called Gueliz). It boasts a brand new airport Menara International Airport (RAK is the code for the airport). The city is spelled "Marrakech" in French, "Marrakesh" in English, "Marrakesch" in German and "Marakeş" in Turkish. Time for more photos.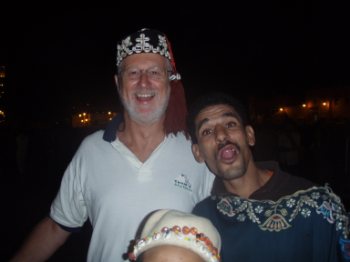 Our waiter Abdul with me in my going out kit, which stops us being pestered as most tourists are. Yes that is a chicken sitting on the lead singers head, Bear with his new toothless friend. They either have fantastic teeth, or you would be pleased when the last remnants finally fall out. Then to serious business.
Peter my brother had tasked me with buying him some fresh Saffron / Zafraan. As its production still depends heavily on manual labour, saffron is the most expensive spice in the world and often called "The Golden Spice". It is the dried stigma of the saffron crocus. It takes over 75,000 crocuses to produce five pounds of stigmas, which after being toasted, yield merely one pound of saffron. It is no wonder then why saffron is so expensive, before we had left our Riad I had asked the proprietor how much it may cost, she had told me up to 30 Dirham's a gram.
The spice shops are awesome, the aroma amazing, the expensive stuff in jars. The end result, Saffron. Saffron crocuses are native to the Mediterranean and to Western Asia, it is said that at harvest time on the plains, a heady, sensual aroma explodes around you as the stigmas are toasted. To prove we were buying the best in the world, the shop keeper put a couple of strands on a piece of white paper, poured a little water and made us watch as it turned a beautifully rich yellow/red. We bought 30 grams at 15 instead of 30 Dirham's a gram. Tired and emotional we set off for bed for the early start of our Sahara Trek.
All in all a day filled with colour, noise and not to be missed.
---