To Momi Bay

Beez Neez now Chy Whella
Big Bear and Pepe Millard
Tue 28 Jul 2015 22:47
To Momi Bay
We set off from the anchorage at ten o'clock, ready to take the Pass at half past.
We made our way to the big rock that definitely has a face, Scott-Free coming up to it.
The reef to our left and to our right.
In the Pass and the reef to our right.
Scott-Free safely through and they're off. A good day sailing and a pretty evening sky.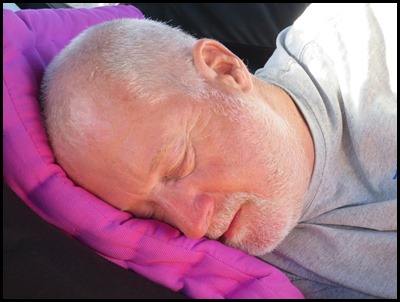 The skipper works very hard during trips........... Cheek.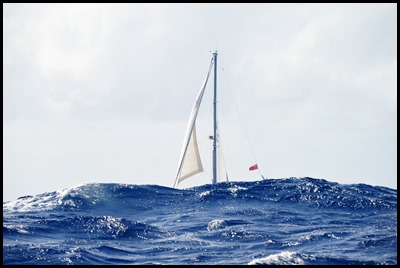 My fun ambition was to get a wave the height of Scott-Free's ensign, close but no cigar.
A lovely mahi-mahi on day one.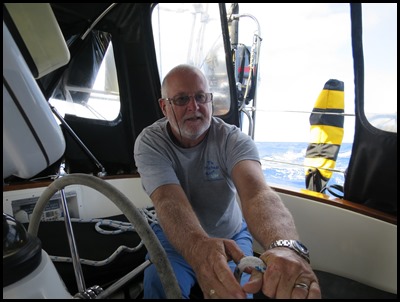 The skipper is now known as the Jibe King, sitting down does make it look easy though. Ooo, it's all action you know.
Overnight we passed an island with reefs of amazing names - no idea how to pronounce them, then see one simply called Caesar Rock.....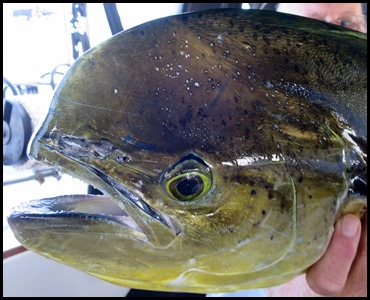 Todays lady was just shy of five feet long, fought me every inch of the way in and copious amounts of gin wouldn't settle her once we got her in the flexibucket. Bear asked me to pose with her but I could barely lift the bucket let alone her. Topped and tailed she still hung over both sides of the sink. Bear left Beez on flattish water for me to roughly fillet her, she yielded many steaks, a whopping tail end for curry and a massive set of roe. Yummy. Oo no Mrs. The we did our final jibe in a squall with an odd gust to forty knots. So pleased I was back in the cockpit for the twenty minute merry-go round until we reached the Pass and all went smooth again.
I said 'smile' and mucky boy complied. Is that mayo. Yes dear.
Happy face, despite having just taken a wave. Marvellous fun.
Nearing the main island of Fiji – Viti Levu. Through the massive and well marked channel to Momi Bay.
Unbelievable, just two boats here in Momi Bay - the cat to the left is called Nova and the monohull on the right is called Scotia.
Scott-Free just behind us in the Navula Passage.
The route here may look like an odd one but in just shy of three hundred miles we only had the engine on for the first and last half hours.
ALL IN ALL PROPER SAILING - YAY
GOOD WINDS IN CHALLENGING DIRECTIONS
---