Finally Fishing

Beez Neez now Chy Whella
Big Bear and Pepe Millard
Tue 4 Jul 2017 22:57
Finally – We Go fishing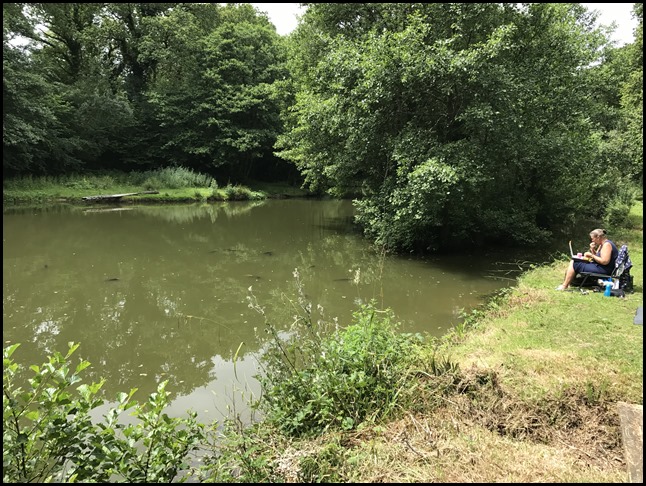 Well, here we are at the carp lake of Hatchlands, near Totnes. We didn't attempt the planned visit on my birthday a week ago due to the torrential rain, sad, the week before was boiling and then the rain, then a couple of really wintry days. It did rain this morning but Bear promised the afternoon would see sunshine and he was right. Thank goodness. The dark blobs on the surface were carp giggling as they watched me struggle to set up. Note to self – make sure you bring your reading glasses as to make the hole in the hook look reasonable............
Lovelies cruising up and down, we are ready.
Bear and his view.
Note the 'blobs' have gone into hiding. At least it's a good excuse to sit still for once and enjoy the sunshine.
Bear slept soundly, I only napped for a few minutes. Uh um.......a good half an hour, then sat up and watched his line tighten, I leapt into 'ready mode' landing net in hand and the feisty little chap gave a bit of a fight. In came this little cutie at just over five and a half pounds. Time to pose with the youngster before packing up. Pleased one of us caught – just the wrong one to my mind, Huh........ Just telling it how it is.
ALL IN ALL A RUSTY START
GREAT FUN BUT OUT OF PRACTICE
---