Clearing Out of Oz

Beez Neez
Skipper and First Mate Millard (Big Bear and Pepe)
Thu 14 Jul 2016 22:57
Clearing Out of Australia on Thursday Island
Up early this morning to finish the 'last minute jobs', somehow the numbers drop off the bottom and new get added at the top. First to see if Border Force can change our eleven o'clock tomorrow for this afternoon. I rang and David answered, I explained that the tides and more importantly the current would be unfavourable to leave tomorrow afternoon, eight in the morning is the best time. "Unfortunately........." I waited with baited breath and short pants for the "sorry no can do" when surprise surprise,............."Unfortunately, I have to say yes". Smashing, quarter past two it was. Leave Beez at twelve, change the gas bottle and be on the ferry at 12:50, pub lunch, sorted on the planning front..........
Now to the second half of the washing. Bedding, tee shirts and a couple of pairs of shorts. That done, Mr Woo, as always pegged out. A good breezy morning, so Bear put a line outside. The sheet made such a noise that I thought we had set sail. I'll leave it out for an hour and then I'll hang it in the cockpit. Couldn't argue with that and I buried myself in banking, emails and cleaning the en suite as you do. Silence. Didn't mean too much until Bear's towel fell in through the open window. The skipper had shot off in Baby Beez and I assumed he had decided to do the gas bottle now, strange he didn't say he was off. Next thing, I'm sorry it's gone (whatever had gone.... at least it can't be my Passport this time as both of them are safely zipped in the holdall which in turn is zipped into the backsack). I've managed to save a pillow numbner but I have lost the sheet. Bugger, the pillow numbner is an elderly one, whereas the fitted sheet has been used three times......
We set off via the wreck as we had been told a resident crocodile likes to slumber there. We saw his tracks into the mangroves but alas, not in person. No time to dither as the sheet incident had chewed into any spare time.
Passing what is left of the old wharf.
To our left a sad looking lady.
Once we had wiggled Baby Beez into the jam-packed parking area, we both just had to pose by a completely new sign to us, the temporary, chained down warning about our absent, potential friend.
The permanent sign on the wharf.
An interesting study has come up with a 'deadliest animal by number of deaths' list.
Shark 10
Wolf 10
Lion 100
Elephant 100
Hippo 500
Crocodile 1,000
Tapeworm 2,000
Tsetse Fly 9,000
Assassin Bug 12,000 (Chagas disease) 12000
Dog (rabies) 40,000
Snake 50,000
Ascaris Roundworm 60,000
Freshwater Snail (Schistosomiasis 110,000
Human (murder) 475,000
Mosquito (malaria) 725,000
Still scared of sharks and wolves..........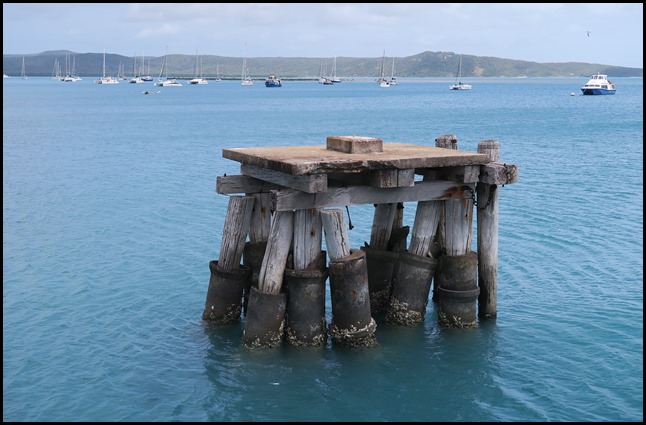 Standing waiting for the ferry we looked along to the anchorage.
On the ferry (after an incredibly quick turnaround), we passed Sea Swift was working a busy day.
Heading over to Thursday Island aboard the Australia Fair.
Always chuffed to see a working girl, this lady pushing some heavy stuff.
Bear by the Thursday Island Welcome sign. Straight to the pub for a schnitzel special, cruisers around a long table over here, just like us, to sign out 'done or about to do'. Deb (Matilda) poses with her colour co-ordinated sholley, neatest feet we have ever seen. I swear my feet wouldn't fit in the boxes her shoes come out of, in fact, they are not feet – just the ends of her legs turned up and frayed a bit.
By half past two we had visited with Claire and Nicole of the Border Force, one ampule of diamorphine returned, small box of injectables unsealed, Passports stamped and all paperwork completed in fifteen minutes. Both ladies were incredible friendly, prompt and efficient. They bade us a safe journey and there was nothing left to do but for Bear to pose outside the listed building built in 1925.
Opposite was the brightest tee shirt on the most chilled man.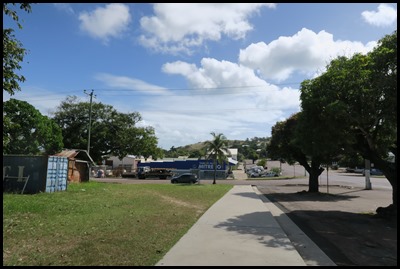 We took a bimble toward Mitre 10 and looked back up the High Street.
Oooo a one careful owner with thoughtful tapered post at a jaunty angle.
Opposite the Royal Hotel........
..............on our side of the road a busy looking verandah.
.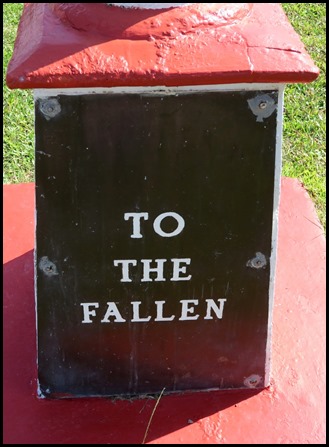 We paid our respects at the War Memorial.
We entered the surprisingly big IBIS supermarket where my nose ran at some of the prices, the best being a long lettuce at eight pounds fifty eight pence, we slid to the icebergs at half that price but still quite painful. The bargain of the day was Anzac biscuits reduced to fifty pence a packet so we scooped six of them for Bear's watch snack. Most of the shoppers were rally cruisers all moaning about being overdosed with shopping. We are done with big shops for six months and look forward to tipping our toes in local markets – hopefully until Christmas.
We walked back toward the ferry passing a lovely explanation about the local flag on a memorial tablet. We settled in the shade with John and Catherine (Afar VI) until it was time to complete the short distance to the heavily laden ferry (with soldiers) at four fifteen.
Back at Horn Island the shoreline was very different at low tide.
Reef and mud as far as we could see.
We went for a spuddle beyond the wreck just in case our chap was late afternoon sunbathing but nudda, such a shame to leave Australia having not seen a crocodile in the wild, but hey, if that's all we have to whinge about........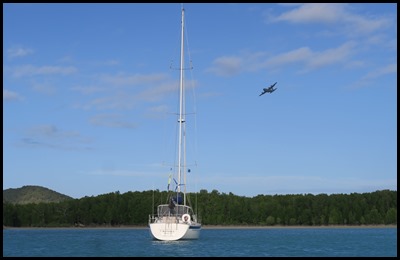 The troop lift came for the boys from the ferry.

We scoured the reef behind Beez for our errant sheet but nothing save for a couple of anhingas and heron.
Passing a fishing friend on our way home and a few sneaky looks at other boats washing lines......just in case someone had rescued it.
Beside our nearest neighbour, quite a classic and home to unpack shopping, stow Baby Beez and final prep stuff before we leave on the morrow.
Our last sunset in Australia.
ALL IN ALL NEARLY READY TO HEAD OUT
A BUSY TIME BUT NICE TO SEE A BIT OF THE ISLAND
---