Ubud for Lunch

Beez Neez
Skipper and First Mate Millard (Big Bear and Pepe)
Mon 19 Sep 2016 22:57
Ubud for Lunch
Our driver came promptly at twelve to pick us up from our villa in the Sideman Valley. A wiggly, rainy, busy and bumpy two and a quarter hours to Ubud -
The town of Ubud, in the uplands of Bali, Indonesia, is known as a centre for traditional crafts and dance. The surrounding Ubud District's rainforest and terraced rice paddies, dotted with Hindu temples and shrines, are among Bali's most famous landscapes. Ancient holy sites include the intricately carved Goa Gajah ("Elephant Cave") and Gunung Kawi, with its rock-cut shrines.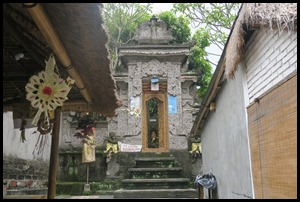 Very soon we found ourselves in skinny streets, memorials and shrines at every gap alongside trendy eateries.
We found our own eatery for lunch complete with a garden for a back wall.
The ladies toilet door(s) were a bit of an event and a picture on the wall showed a market scene from years ago.
We went for a bimble passing ornate doors and arches. A modern art event in a shop doorway.
Old and new being fused together.
Tourist services and narrow alleys.
We cut through the market en route to the awaiting van.
We were ready to leave and found a quiet shortcut.
We saw this heavily laden motorbike on our bimble, later we overtook him as it began to rain.
A very busy picture on the way back to Beez.
ALL IN ALL TOO CRAMPED, TOO MANY PEOPLE AND TOO MUCH TAT
A VERY BUSY TOURIST HUB
---