Bimble to Pokhara

Beez Neez now Chy Whella
Big Bear and Pepe Millard
Fri 6 Apr 2018 22:57
Bimble Down to Phewa Lake, Pokhara
We left our digs and headed over to the Peace Pagoda, the start of a well-used track down to the lake.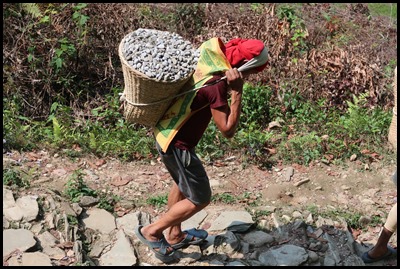 We stepped out of the way of these two fit, young men carrying hugely heavy loads of stones.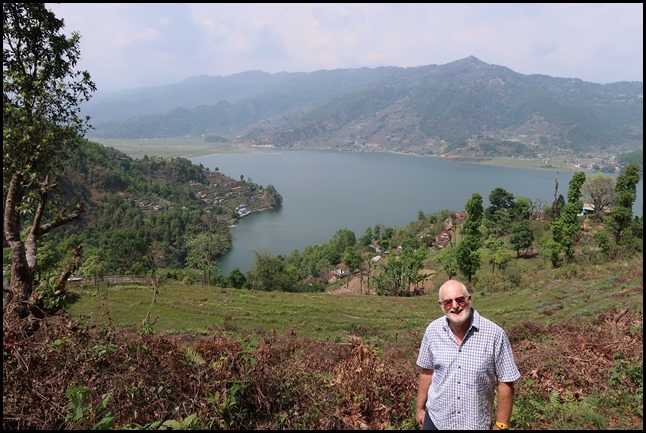 The view half way down.
We saw some pretty blooms, sunbirds scruffing about and an elderly 'shack with a view'
A lovely spot, we chatted to some Australian youngsters.
Nearing the village on this side of the lake.
A single cow having a bath.
By the time we neared the bottom a local was at us about crossing to the other side. He wanted a thousand Rupees ($10) but we asked through hand gestures if two Chinese ladies wanted to share. They were not to be minced with and wanted eight hundred for the four of us. Deal done, we all clambered in with a business degree holding oarsman who preferred life at home rowing for his dad. We were glad not to be getting in the boat with a severe leak. Off we set.
The ladies proved useless, but Bear and I enjoyed a bit of a paddle.
Nice to live in one of these houses at this time of year.
We could make out the Peace Pagoda at the top (3,609 feet) now on the lake at
2,434 feet.
Coming in to the town side of the shore. Lots of lakeside eateries.
Our 'welcoming committee' nodding and singing for us.
Bear saw a menu and couldn't resist – buffalo with mash, veg and gravy. Conspiratorially the waiter leaned in close and whispered "It's beef but we are not allowed to put that on the menu as they are sacred". I enjoyed fruit salad filled to the brim, served in a Mason jar.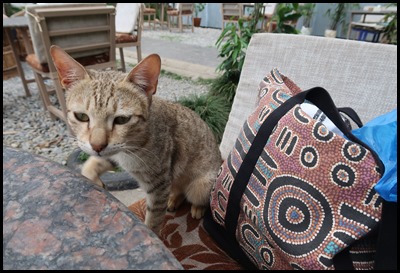 We even had a table companion. The we bimbled toward town, found a taxi and rode up to our digs
.
ALL IN ALL BEAUTIFUL SCENERY
FABULOUS VIEWS, GREAT WALK IF SOMEWHAT LONG AND STEEP
---