A&E Supper

Beez Neez
Skipper and First Mate Millard (Big Bear and Pepe)
Mon 30 Jul 2018 22:57
Supper with Andrew & Edward
Miffy and Rachel invited us to supper with them all at The Crooked Inn, Edward was soon exploring where the ducks 'led', no longer a toddler, he is a now a little boy. Meanwhile, Andrew took on the climbing frame.
At four years old, Andrew is maturing fast (growing so quickly).
Something a little off on the weight difference.........
Time for fun, a quick pose and showing us the "duck bath" before a tasty meal.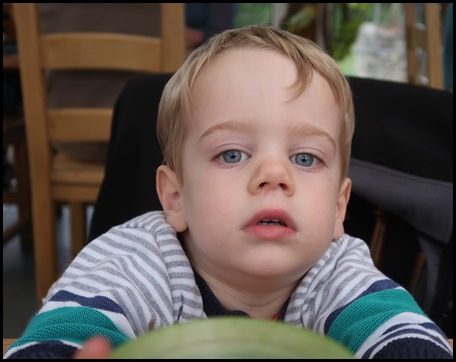 A serious _expression_ as I am shown a clean plate, ready for ice cream.
The brothers pose as we head off, a smashing evening.
ALL IN ALL A LOVELY, SPONTANEOUS TREAT
YET ANOTHER GOOD, NEW VENUE TO US, WE WILL BE BACK.........
---