Boys Carving

Beez Neez
Skipper and First Mate Millard (Big Bear and Pepe)
Mon 20 Jul 2015 22:57
The Boys Learn Wood Carving
The boys left us to our weaving and joined Joe who showed them how to make a carver bowl.

Joe taught them how to use the 'tool', kept sharp on a grinder.
Bear set to work making a club.
Another carver bowl with its traditional four legs is skilfully crafted. The men send finished items on the freighter to Suva to sell via family members, they also send over prepared carvings to be finished in Suva.
The boys had as many small visitors as we did. The morning flew by on a haze of 'cigarette' smoke.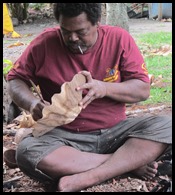 A large shell takes shape. Sandpaper is a rarity so a spoke shaver comes in handy.
Today a club from Bear – tomorrow a bed post ???? It's a drumstick. Oh OK I can see Charlie belting his high hat with that......
Bear was very taken with this clam shell so he bought it.
Bear bought me this turtle, handsome with or without his lid and I just love his white paws.
ALL IN ALL IMPRESSIVE RESULTS
GREAT FUN AND TEN FINGERS REMAIN
---